Livraison offerte dès 49€ en France Métropolitaine 🚀
Première marque de développement spirituel à être distribuée dans les plus grands magasins
Lapis Lazuli 🔮 Se laisser guider et trouver sa voie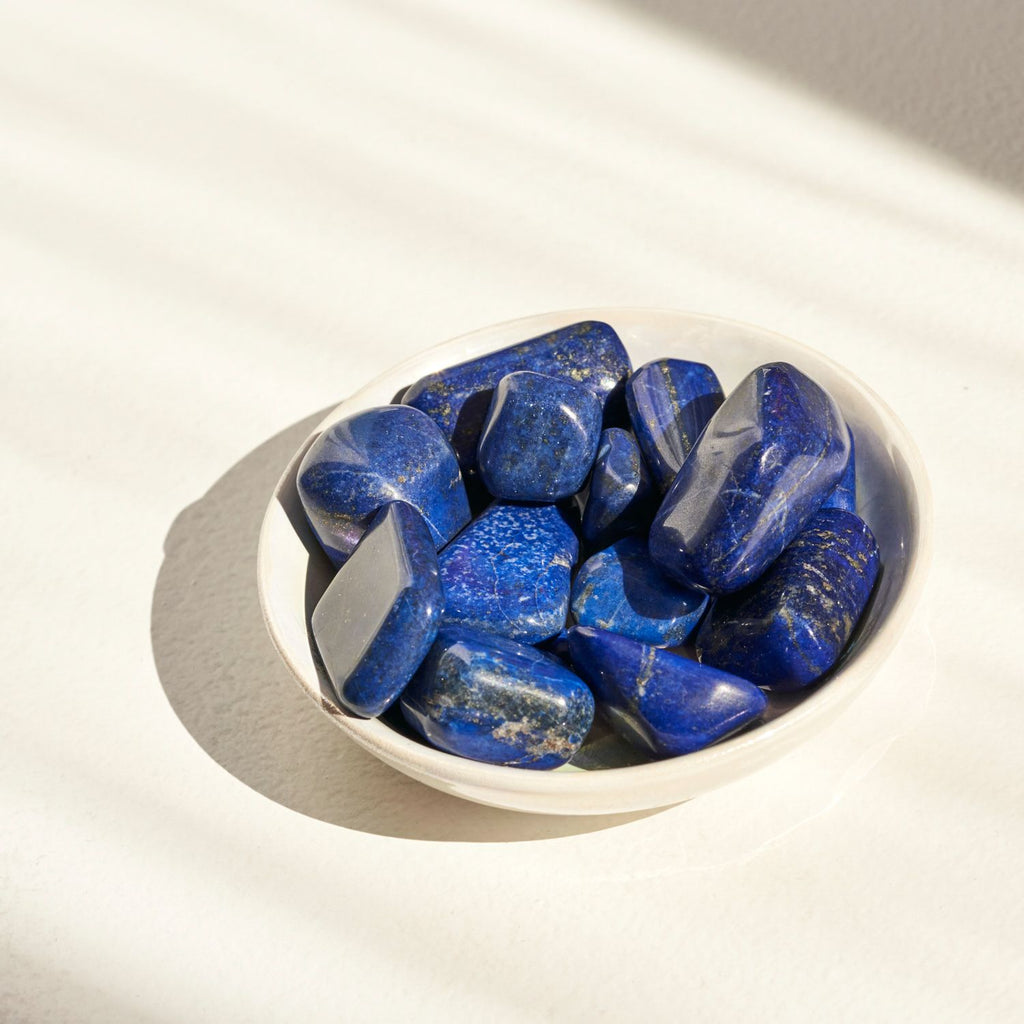 Lapis Lazuli 🔮 Se laisser guider et trouver sa voie
Immediate reconnection with your inner truth!

Lapis Lazuli was venerated by the pharaohs who considered it the sacred stone of protection giving access to wisdom and facilitating intuition. Its royal blue, tinged with golden encrustations, already projects us into the magical depths of the unconscious. His power ? Open your consciousness, and open the door to your deep identity.

In possession of your inner compass, you will be able to express your full potential. It possesses the ability to quickly calm the mind and imparts a sense of peace and security.

It is the stone of total consciousness. Lapis Lazuli opens the third eye, immediately increasing your psychic abilities and boosting your personal power.
On oneself :

Worn on you, Lapis Lazuli unravels blockages in the throat when you are angry. It is suitable for shy, introverted and withdrawn people, as it enhances self-confidence through self-acceptance. It is a stone that helps to overcome depression, anxiety and ancestral fears.


Meditation / Yoga:

It is an excellent stone to deepen your meditation and yoga practices. It brings wisdom and strengthens the spirit of solidarity. Lapis Lazuli opens the third eye, immediately increases psychic abilities and stimulates your personal power.

✦ Unload your crystals:

Pass your stone under the smoke of White Sage or Palo santo to rid it of negative energies.

Pass it in the center of a Tibetan bowl and let the bad energies escape thanks to the vibrations of the sounds.

Upload your stone to a cluster of quartz or an amethyst geode.

✦ Recharge your crystals:

Take advantage of the soft light of the moon to let your stone take charge of its energies.

Put your stone in the ground so that it can discharge in a healthy environment.
Average weight: 23g
AAA quality
À quoi correspond la qualité des cristaux ?
Sur chaque page présentant un minéral, vous pouvez retrouver la mention "Qualité" suivie de sa note. Chaque notation correspond à un critère qualité utilisé dans le monde des cristaux. Il en existe 5 :
B : Faible
AB : Standard
A : Bonne qualité
AA : Très bonne qualité
AAA : Meilleure qualité possible
Sur notre site, nous faisons le choix de ne proposer aucun cristal en dessous d'une classification AB afin de vous garantir la meilleure des qualités.
Si vous souhaitez en savoir plus sur la provenance, le sourcing et la qualité de nos produits, rendez-vous ici 🌈
LIVRAISON : Une fois que votre commande est validée de notre côté, nous l'expédions en moyenne dans les 1 à 2 jours ouvrables. Lorsque celle-ci est prise en charge par Colissimo, votre colis vous est livré dans les 2 à 5 jours ouvrables suivants.
RETOUR : Vos cristaux ne résonnent pas en vous ? Pas de panique, vous disposez d'un délai légal de 14 jours pour nous renvoyer les pépites qui ne vous conviennent pas.
Pour plus d'infos, n'hésitez pas à consulter notre FAQ 💬