Livraison offerte dès 49€ en France Métropolitaine 🚀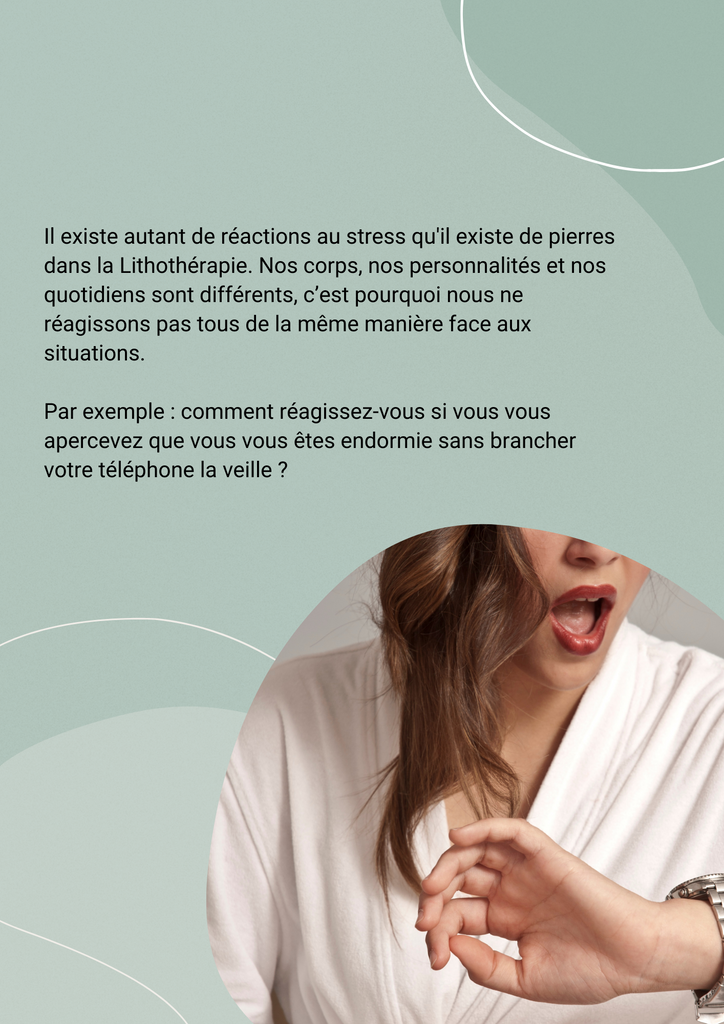 Ebook Learn to manage stress
Tensions, pressures, agitations, ... We all know this peak of stress! The most annoying thing is when he puts down his suitcases and settles for good in our minds. To get around this and learn how to manage your stress, here is an ebook containing our tips and advice to apply for more serenity.

From causes to consequences, through concrete practices to easily implement, our litho advice or even a ritual to perform to evacuate tensions, the ebook Learning to manage stress is divided into 4 main parts:

✦ What is stress?
• Acute stress vs. Chronic stress
• How does this translate into our body?
✦ How to prevent stress?
• 5 simple tricks to ward off stress
• What practices should be implemented on a daily basis?
✦ The 10 No Stress crystals
✦ The visualization exercise to remain calm in any situation
Everyone ! Yes, each person can be subjected to a period of stress at one time or another of their life, of a project, of an event. Certainly we are not equal as regards this feeling which crosses us, but it is important to recognize the signs, to be able to better understand it, the day it shows up at our door 👋🏽
Enjoy every moment looooin, very looooin of the fear that freezes and holds back. One goal: to free yourself from stress! As you read, you will learn to pay more attention to your stressors but above all to know how to react to the daily pressure it brings! "Ciao stress, this is where our paths diverge!"

With this ebook, you will learn to:

✦ Recognize the different types of stress and their causes
✦ Listen to your body and take real breaks
✦ Set up soothing and easy daily actions
✦ Surround yourself with the best anti-stress crystals

Warning: The advice provided in this ebook has been written for the purpose of sharing and experience, not for medicinal purposes. This ebook does not replace the advice of a health professional. If you feel any doubt, please consult a doctor.
You'll see, it's child's play!

To order and download your ebook, simply add this product to your basket and confirm your purchase. Once the payment has been made, you will find the link to download your ebook directly to your mailbox or to your account on the site. Nice reading ✨