Livraison offerte dès 49€ en France Métropolitaine 🚀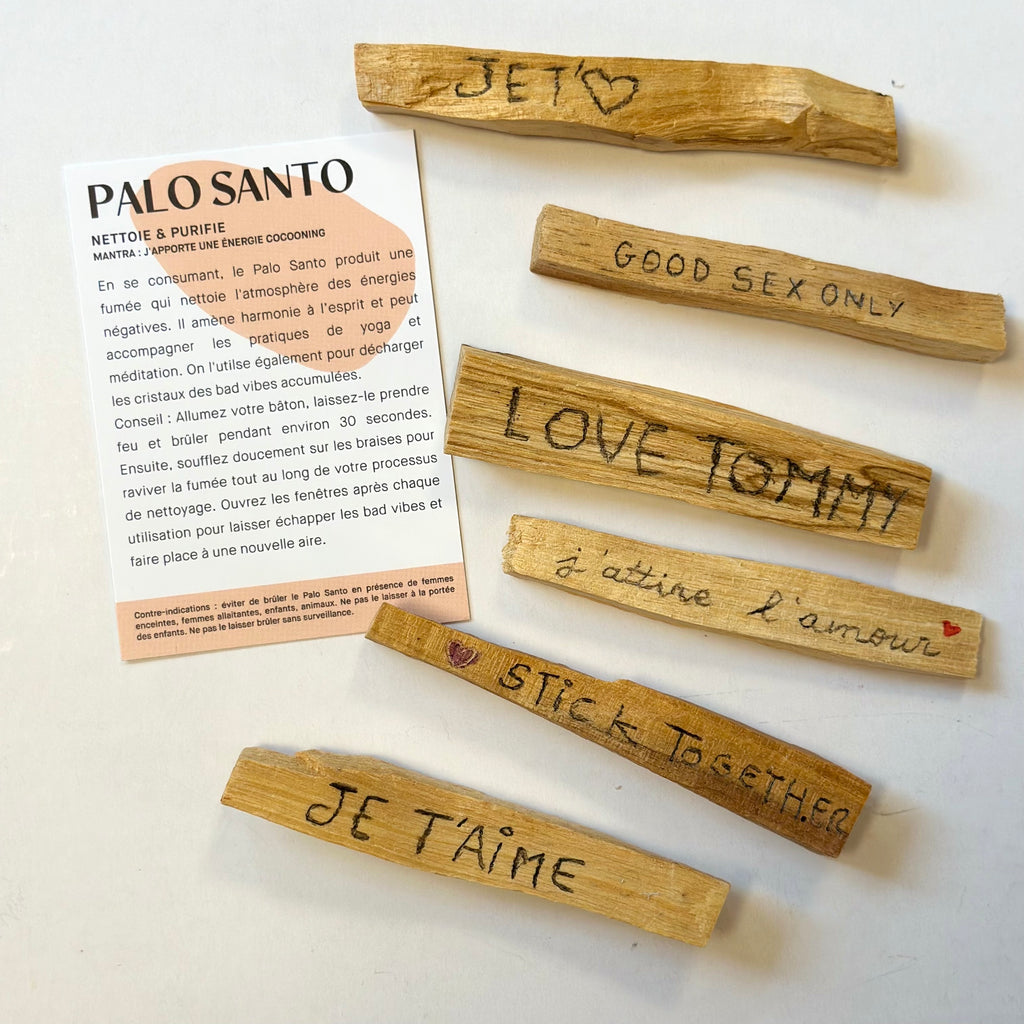 Palo Santo personalized engraving
Palo Santo means "sacred wood" in Spanish. His mantra? I bring a cocooning energy! It is used to grab and expel negative energies from your stones or places you wish to purify. It attracts and rebalances positive energies. Diffused during your meditation or Yoga, the smell of Palo Santo helps to relax your mind.

As it burns, the Palo Santo produces a smoke that cleanses and purifies the atmosphere of evil spirits, energies or negative forces and thus attracts good omen. Palo Santo brings peace and harmony to the mind and creates an energy conducive to prosperity and abundance. It promotes concentration and meditation, brings self-confidence and a feeling of being protected.

Bye Bye bad vibes, make way for a new area!
Light your Palo Santo, let the stick catch fire and let it burn for about 30 seconds. Then, blow gently. If necessary, you can blow on the embers to keep the smoke going throughout your cleaning process.

Our Palo Santo sticks are natural, environmentally friendly, harvesting is done without causing any damage to living trees.
Fumigation should be done in a well ventilated area. Indoors, we recommend that you open your windows to let the negative energies escape with the smoke. The information given comes from traditions, cultures from various backgrounds, they absolutely do not replace traditional medicine.
LIVRAISON : Une fois que votre commande est validée de notre côté, nous l'expédions en moyenne dans les 1 à 2 jours ouvrables. Lorsque celle-ci est prise en charge par Colissimo, votre colis vous est livré dans les 2 à 5 jours ouvrables suivants.
RETOUR : Vos cristaux ne résonnent pas en vous ? Pas de panique, vous disposez d'un délai légal de 14 jours pour nous renvoyer les pépites qui ne vous conviennent pas.
Pour plus d'infos, n'hésitez pas à consulter notre FAQ 💬