Livraison offerte dès 49€ en France Métropolitaine 🚀
Première marque de développement spirituel à être distribuée dans les plus grands magasins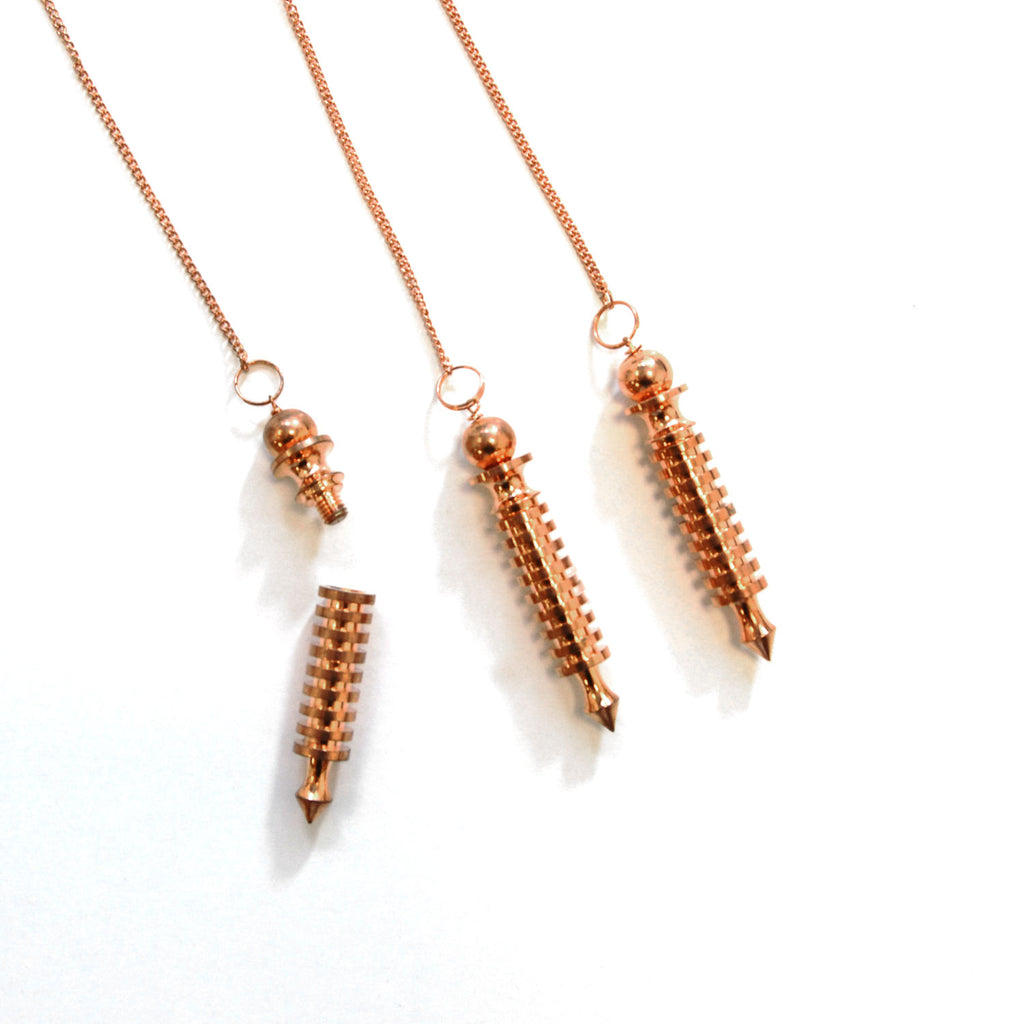 The pendulum is a divinatory tool allowing us to receive messages from our unconscious or from spiritual spheres. In the shape of a point, this pendulum is very concentrated in energy like a lightsaber projecting its powerful energy. This pendulum is then ideal for beginners because its handling is easy.
The use of the pendulum does not require any prerequisites! Have you ever used a pendulum? Do not panic, here is a quick guide to get started:

Step 1: purification
Before you start, purify your pendulum well with the smoke of incense: like crystals, it may be charged with energy before reaching you. Purifying it allows you to renew your skin, far from all energetic influences that are not yours.

Step 2: programming
Pinch the end of the chain between your thumb and index finger and place your hand below your pendulum. Take a deep breath and ask your pendulum to show you the meaning of "yes" then once you have the answer, the meaning of "no". In addition to creating a first connection, this step allows you to have a basis for interpretation when you ask him a question.

Step 3: questioning
That's it, you're ready to use your pendulum! To do this you can choose to ask a closed question (answer with yes or no) or an open question using objects. Trust your feelings, only you can understand the message that your pendulum wants to send you. Once your session is over, be sure to hydrate yourself well: this helps to fluidify the energies.
✦ Unload your pendulum:
Pass your pendulum under the smoke of White Sage or Palo santo to rid it of negative energies. Warning: no water!

✦ Recharge your pendulum:
Take advantage of the soft light of the sun (morning or evening) or the moon to let your pendulum take charge of its energies.

✦ Unload and Reload your pendulum:
Place your pendulum on the Flower of Life to discharge and reload them.
Place your pendulum on a cluster of quartz or an amethyst geode.
Total length: 21cm
Stone length: 3cm
Weight: 18g
LIVRAISON : Une fois que votre commande est validée de notre côté, nous l'expédions en moyenne dans les 1 à 2 jours ouvrables. Lorsque celle-ci est prise en charge par Colissimo, votre colis vous est livré dans les 2 à 5 jours ouvrables suivants.
RETOUR : Vos cristaux ne résonnent pas en vous ? Pas de panique, vous disposez d'un délai légal de 14 jours pour nous renvoyer les pépites qui ne vous conviennent pas.
Pour plus d'infos, n'hésitez pas à consulter notre FAQ 💬