Livraison offerte dès 49€ en France Métropolitaine 🚀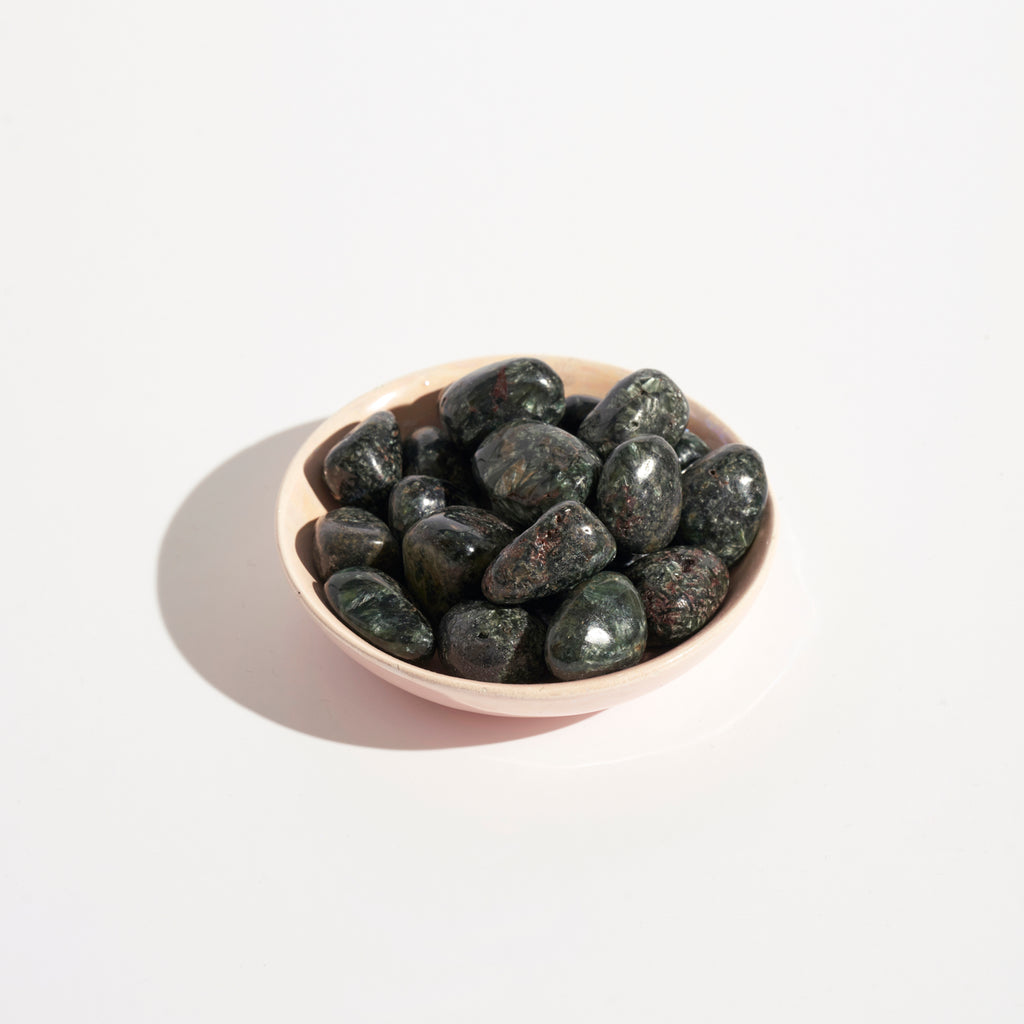 Séraphinite 🕊️ Légèreté et coeur souriant
"Dream that you have wings, swallow or dove,
And up there in the sky.. You fly away, you fly away, you fly away! ".

Like Peter Pan's green suit, Seraphinite is THE stone of lightness! It connects us directly to the waves of Love, the true, the pure! She has this gift of freeing us from past emotions, to regain confidence and faith in the future. With her, I find a featherweight, optimism and a large dose of letting go!

Seraphinite is a direct celestial flight closer to your heart. She helps you overcome with a laughing heart the obstacles put in your way. Stone of balance, it wraps you in all its softness for an openness to others, sincere and aligned.
On oneself :
In a pocket or in the bra, Séraphinite invites your heart to be more gentle. At his side, you know how to intuitively put in place what is good for you and your emotions.

In the House :
Within your fortress, Seraphinite facilitates the expression of the soul. She is the ally of people wishing to open up and share their secret garden.

At work / studies:
On your desk when you work or create, Seraphinite brings you a touch of vitality. By balancing the emotions, it makes it possible to dissociate the professional and personal side and thus contributes to an optimal concentration.

In meditation:
In meditation, Seraphinite invites you to dive into your mind. It helps you see your emotions as little clouds crossing the sky. Once observed with benevolence, they evaporate to give way to a great sweetness in your heart.
✦ Unload your crystals:
Pass your stone under the smoke of White Sage or Palo Santo to rid it of negative energies.
Place it in the center of a Tibetan bowl and let the bad energies escape thanks to the vibrations of the sounds.
Place your stone on a cluster of quartz or an amethyst geode.

✦ Recharge your crystals:
Take advantage of the soft light of the sun (morning or evening) to let your stone take charge of its energies.
Put your stone in the ground so that it can discharge in a healthy environment.

✦ Unload and Reload your crystals:
Place your crystals on the Flower of Life to discharge and recharge them.
Place your stone on a cluster of quartz or an amethyst geode.
Average weight: 12g

À quoi correspond la qualité des cristaux ?
Sur chaque page présentant un minéral, vous pouvez retrouver la mention "Qualité" suivie de sa note. Chaque notation correspond à un critère qualité utilisé dans le monde des cristaux. Il en existe 5 :
B : Faible
AB : Standard
A : Bonne qualité
AA : Très bonne qualité
AAA : Meilleure qualité possible
Sur notre site, nous faisons le choix de ne proposer aucun cristal en dessous d'une classification AB afin de vous garantir la meilleure des qualités.
Si vous souhaitez en savoir plus sur la provenance, le sourcing et la qualité de nos produits, rendez-vous ici 🌈
LIVRAISON : Une fois que votre commande est validée de notre côté, nous l'expédions en moyenne dans les 1 à 2 jours ouvrables. Lorsque celle-ci est prise en charge par Colissimo, votre colis vous est livré dans les 2 à 5 jours ouvrables suivants.
RETOUR : Vos cristaux ne résonnent pas en vous ? Pas de panique, vous disposez d'un délai légal de 14 jours pour nous renvoyer les pépites qui ne vous conviennent pas.
Pour plus d'infos, n'hésitez pas à consulter notre FAQ 💬