Livraison offerte dès 49€ en France Métropolitaine 🚀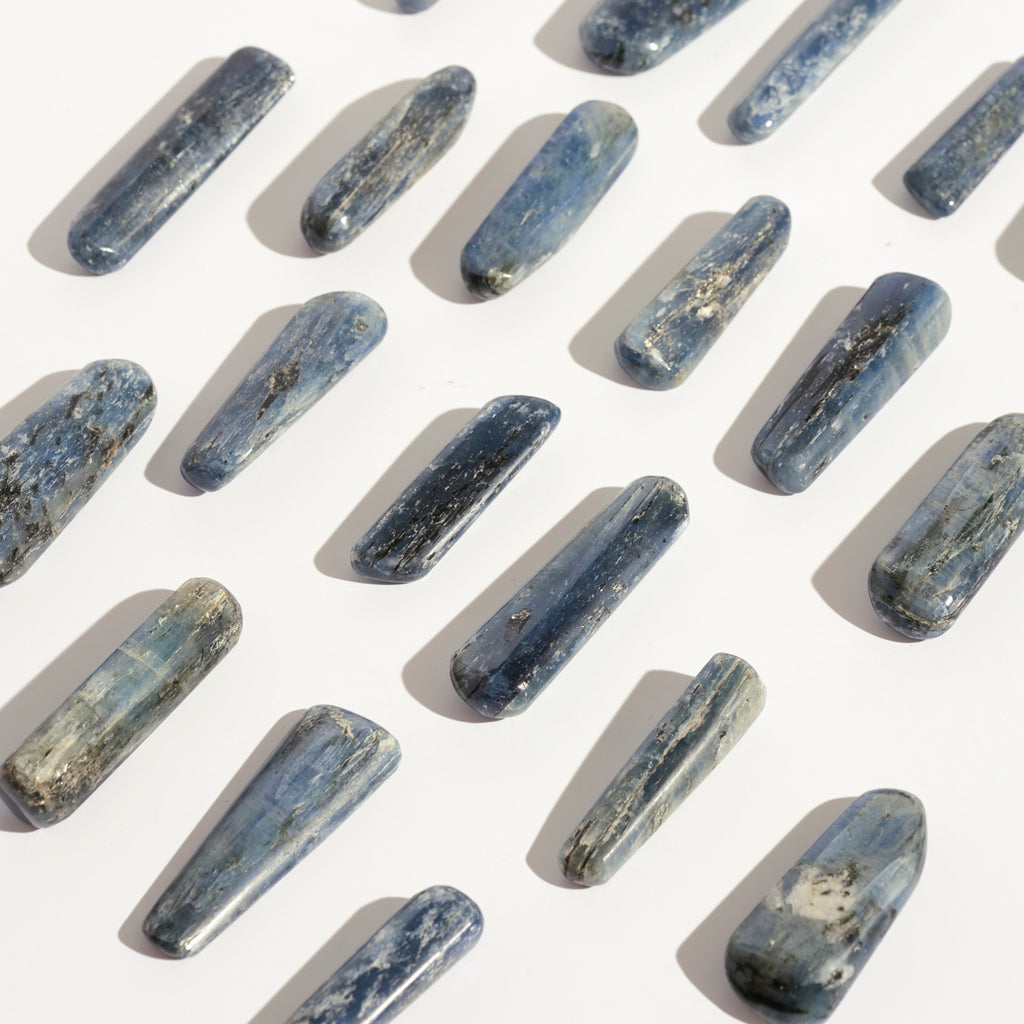 Kyanite
Cyanite, whose name is taken from the color cyan, obtained by mixing the primary colors blue and yellow, acts as an energy harmonizer. Its action is deep and spiritual, to reconnect with its true identity. It plunges us into the depths of the Self, and opens the doors to the true knowledge of our Being.

Its soothing effect and its gentle energy make it an ally to relieve the most unconscious ailments, and give back to our true potential, the place to express ourselves.

Kyanite balances our most intense emotions, from anger to resentment, to transmute them into light.
On oneself :
Slipped into your pocket or your bra, Cyanite will allow you to find the inner serenity offered by a better self-knowledge. By bringing her soft light, she helps us to recognize our deep motivations and to express our limits in order to respond to circumstances without betraying ourselves. This crystal is also an unparalleled vibrational shield against energy impurities.

At home :
By calming conscious and unconscious anxieties, Cyanite promotes deep and restorative sleep, this stone may quickly become your new anti-nightmare comforter to slip under the pillow.

At work :
Do you have a hyper-fertile imagination that is starting to go round in circles like a fish in its bowl? Kyanite bursts your bubble to release all your beautiful ideas and their expression into the world. No censorship, he needs it. To contemplate on her desk, without moderation, so that she whispers to you: Action!

In meditation:
Cyanite is an excellent stone to accompany your introspective or contemplative practices. By sharing its clarity, it sheds light on your wounds to better heal them and strengthens the coherence between the heart and intuition so that your expression, verbal and non-verbal, reflects your pure truth, outside influences or shyness. misplaced.
✦ Unload your crystals:
Pass your stone under water or under the smoke of White Sage or Palo Santo to rid it of negative energies.
Place it in the center of a Tibetan bowl and let the bad energies escape thanks to the vibrations of the sounds.
Place your stone on a cluster of quartz or an amethyst geode.

✦ Recharge your crystals:
Take advantage of the soft light of the sun (morning or evening) to let your stone take charge of its energies.
Put your stone in the ground so that it can discharge in a healthy environment.

✦ Unload and Reload your crystals:
Place your crystals on the Flower of Life to discharge and recharge them.
Place your stone on a cluster of quartz or an amethyst geode.
Average weight: 12g
À quoi correspond la qualité des cristaux ?
Sur chaque page présentant un minéral, vous pouvez retrouver la mention "Qualité" suivie de sa note. Chaque notation correspond à un critère qualité utilisé dans le monde des cristaux. Il en existe 5 :
B : Faible
AB : Standard
A : Bonne qualité
AA : Très bonne qualité
AAA : Meilleure qualité possible
Sur notre site, nous faisons le choix de ne proposer aucun cristal en dessous d'une classification AB afin de vous garantir la meilleure des qualités.
Si vous souhaitez en savoir plus sur la provenance, le sourcing et la qualité de nos produits, rendez-vous ici 🌈
LIVRAISON : Une fois que votre commande est validée de notre côté, nous l'expédions en moyenne dans les 1 à 2 jours ouvrables. Lorsque celle-ci est prise en charge par Colissimo, votre colis vous est livré dans les 2 à 5 jours ouvrables suivants.
RETOUR : Vos cristaux ne résonnent pas en vous ? Pas de panique, vous disposez d'un délai légal de 14 jours pour nous renvoyer les pépites qui ne vous conviennent pas.
Pour plus d'infos, n'hésitez pas à consulter notre FAQ 💬