Livraison offerte dès 49€ en France Métropolitaine 🚀
Première marque de développement spirituel à être distribuée dans les plus grands magasins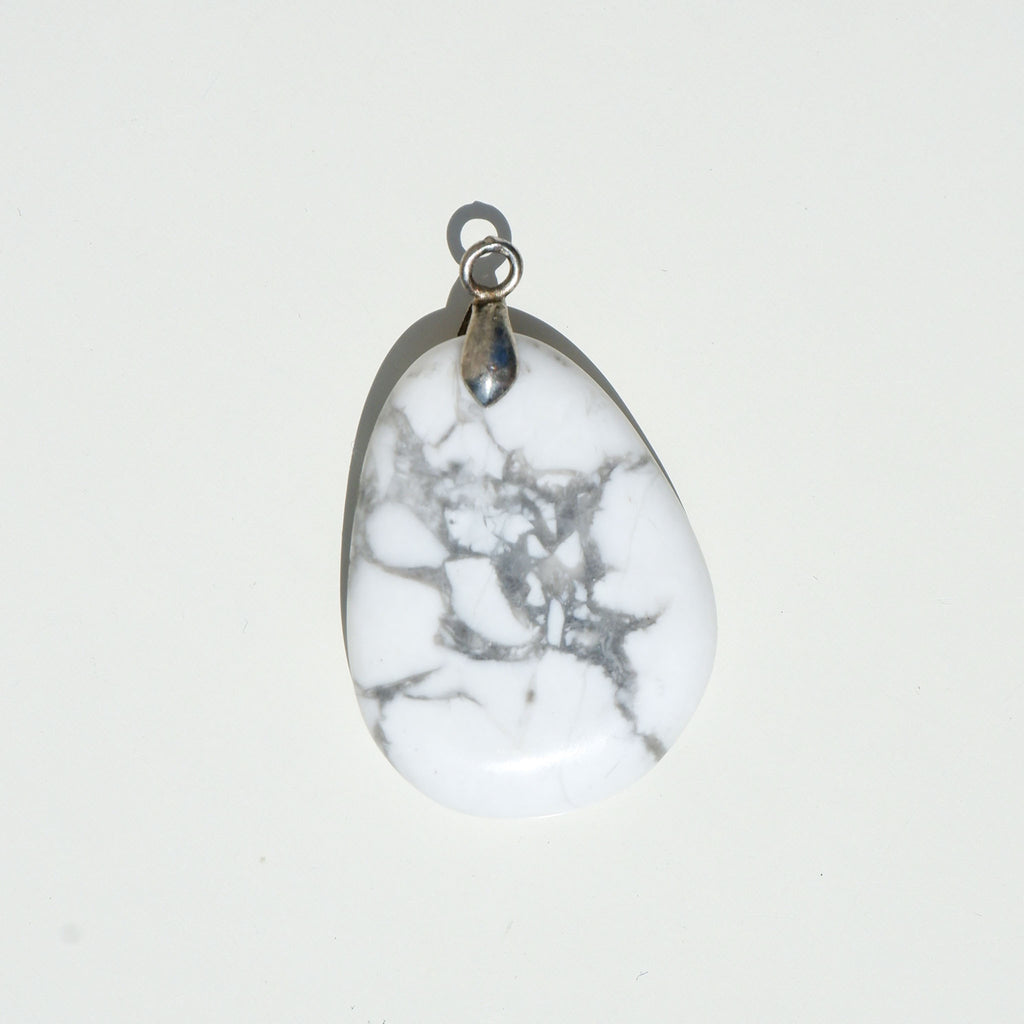 Howlite pendant makes our mind impervious to negativity. This is how it allows you to focus only on the essential elements and to carry out tasks considered complex. A stone of wisdom, it gives its wearer the benefit of serenity. We stay cool with the Howlite!

Howlite's pendant brings a wise and reasonable look to every event. It thus calms impulsiveness by pushing us to be more thoughtful and responsible. This stone also helps to clarify what is going on in our life.

It also has great purifying virtues that prevent superfluous ideas from reaching us. Therefore, negative visions do not alter our field of perception.

Focus on our goals!
On oneself:
Around your neck on a daily basis, the Howlite pendant encourages you to no longer be afraid of difficulty. He therefore helps you to solve each problem, armed with unfailing composure.

Home:
Worn in a bedroom, the Howlite pendant frees the mind from parasitic thoughts and creates a peaceful and relaxing atmosphere conducive to falling asleep. It is a stone that combines perfectly with the Amethyst pendant.

Meditation:
In meditation, the Howlite pendant connects you to the spiritual spheres. It also brings great wisdom and clairvoyance abilities.
✦ Unload your crystals:
Pass your stone under the smoke of White Sage or Palo santo to rid it of negative energies.
Pass it in the center of a Tibetan bowl and let the bad energies escape thanks to the vibrations of the sounds.

✦ Recharge your crystals:
Take advantage of the soft light of the moon to let your stone take charge of its energies.
Put your stone in the ground so that it can discharge in a healthy environment.

✦ Unload and Reload your crystals:
Place your crystals on the Flower of Life to discharge and recharge them.
Place your stone on a cluster of quartz or an amethyst geode.
Clasp: Steel

Size: Length about 2cm - Width about 2.5cm

Weight: from 6G to 8G
À quoi correspond la qualité des cristaux ?
Sur chaque page présentant un minéral, vous pouvez retrouver la mention "Qualité" suivie de sa note. Chaque notation correspond à un critère qualité utilisé dans le monde des cristaux. Il en existe 5 :
B : Faible
AB : Standard
A : Bonne qualité
AA : Très bonne qualité
AAA : Meilleure qualité possible
Sur notre site, nous faisons le choix de ne proposer aucun cristal en dessous d'une classification AB afin de vous garantir la meilleure des qualités.
Si vous souhaitez en savoir plus sur la provenance, le sourcing et la qualité de nos produits, rendez-vous ici 🌈
LIVRAISON : Une fois que votre commande est validée de notre côté, nous l'expédions en moyenne dans les 1 à 2 jours ouvrables. Lorsque celle-ci est prise en charge par Colissimo, votre colis vous est livré dans les 2 à 5 jours ouvrables suivants.
RETOUR : Vos cristaux ne résonnent pas en vous ? Pas de panique, vous disposez d'un délai légal de 14 jours pour nous renvoyer les pépites qui ne vous conviennent pas.
Pour plus d'infos, n'hésitez pas à consulter notre FAQ 💬