Livraison offerte dès 49€ en France Métropolitaine 🚀
Première marque de développement spirituel à être distribuée dans les plus grands magasins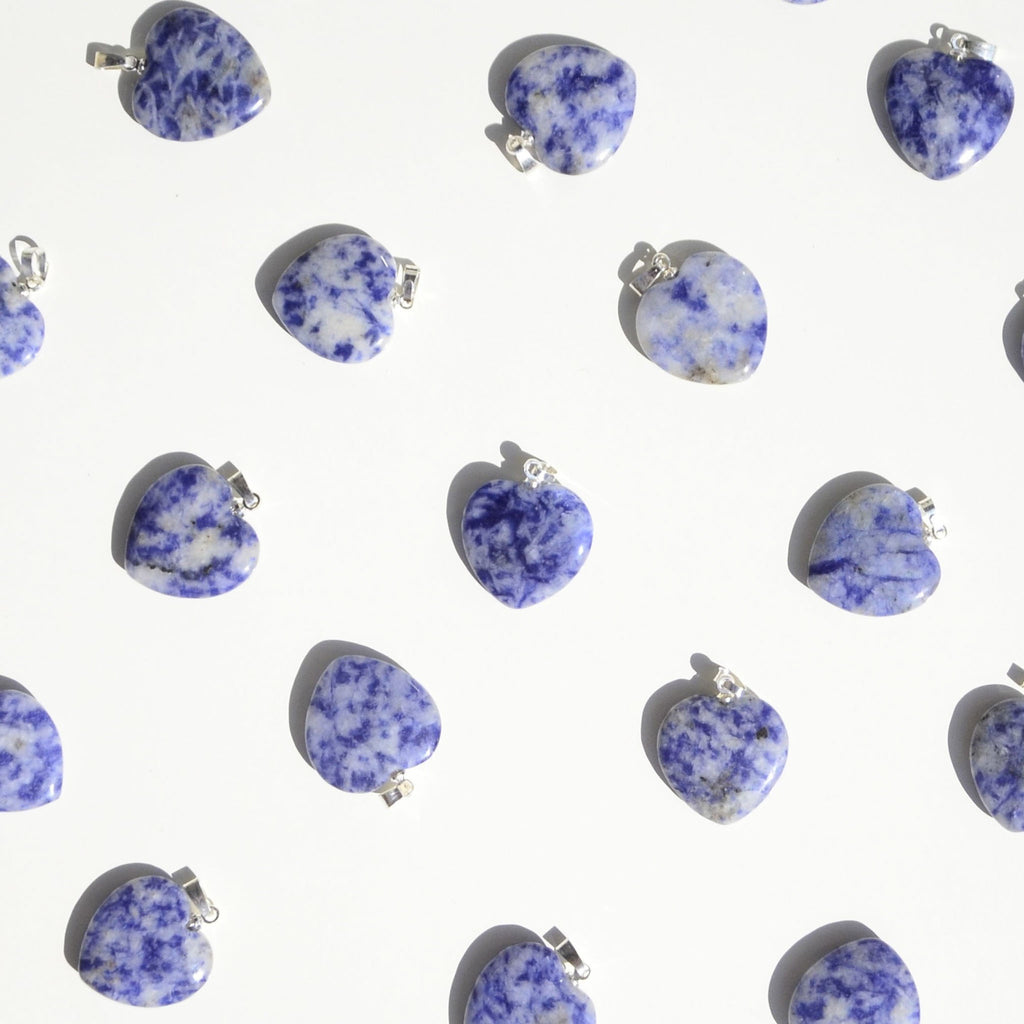 Pendentif Coeur Sodalite 💙 Compréhension et apaisement
Sodalite is the Peace & Love stone in Lithotherapy.

It relaxes the atmosphere like a mist of water refreshes in summer. It's sweet, it's good. This delicacy makes us forget everything, even the initial reasons for our nervousness or our anger. It must be said that this crystal helps us to better understand the behavior and thoughts of those around us. Kind of like connecting directly from heart to heart. With her, we learn to listen without judging, just by accepting the words.

Sodalite also calms anxieties since we put dots on the i's, and bars on the t's. Everything is clear, limpid, square. It's la dolce vita for thoughts.
On oneself :
In a pocket, a bag or in the hand, Sodalite helps you trust the people around you. It develops empathy and understanding. It is a stone that is also beneficial for self-discovery, self-understanding and being more indulgent with oneself. It calms the anger that one may have towards oneself or others.

At work :
Sodalite calms the mind and prevents dissipation when working. Placed near you, it will allow better concentration. Ideal for creative projects, it is also a stone that stimulates inspiration. Use a Sodalite during group work/projects: it facilitates the exchange and the spirit of solidarity in the team.

At home :
In a living room, Sodalite invites healthy and positive communication. This creates strong relationships between household members. Place your Sodalite near your bed or under your pillow to help you fall asleep: it calms your thoughts.

Meditation/Yoga:
In meditation, Sodalite will silence the chatter of the mind. This will create a feeling of relaxation and deep relaxation throughout the body.
✦ Unload your crystals:
Pass your stone under the smoke of White Sage or Palo santo to rid it of negative energies.
Place it in the center of a Tibetan bowl and let the bad energies escape thanks to the vibrations of the sounds.

✦ Recharge your crystals:
Take advantage of the soft light of the sun (morning or evening) to let your stone take charge of its energies.

✦ Unload and Reload your crystals:
Place your crystals on the Flower of Life to discharge and recharge them.
Place your stone on a cluster of quartz or an amethyst geode.
Average weight: 12g

À quoi correspond la qualité des cristaux ?
Sur chaque page présentant un minéral, vous pouvez retrouver la mention "Qualité" suivie de sa note. Chaque notation correspond à un critère qualité utilisé dans le monde des cristaux. Il en existe 5 :
B : Faible
AB : Standard
A : Bonne qualité
AA : Très bonne qualité
AAA : Meilleure qualité possible
Sur notre site, nous faisons le choix de ne proposer aucun cristal en dessous d'une classification AB afin de vous garantir la meilleure des qualités.
Si vous souhaitez en savoir plus sur la provenance, le sourcing et la qualité de nos produits, rendez-vous ici 🌈
LIVRAISON : Une fois que votre commande est validée de notre côté, nous l'expédions en moyenne dans les 1 à 2 jours ouvrables. Lorsque celle-ci est prise en charge par Colissimo, votre colis vous est livré dans les 2 à 5 jours ouvrables suivants.
RETOUR : Vos cristaux ne résonnent pas en vous ? Pas de panique, vous disposez d'un délai légal de 14 jours pour nous renvoyer les pépites qui ne vous conviennent pas.
Pour plus d'infos, n'hésitez pas à consulter notre FAQ 💬