Livraison offerte dès 49€ en France Métropolitaine 🚀
Première marque de développement spirituel à être distribuée dans les plus grands magasins
Bracelet 7 Chakras ⚖️ Balance of energy points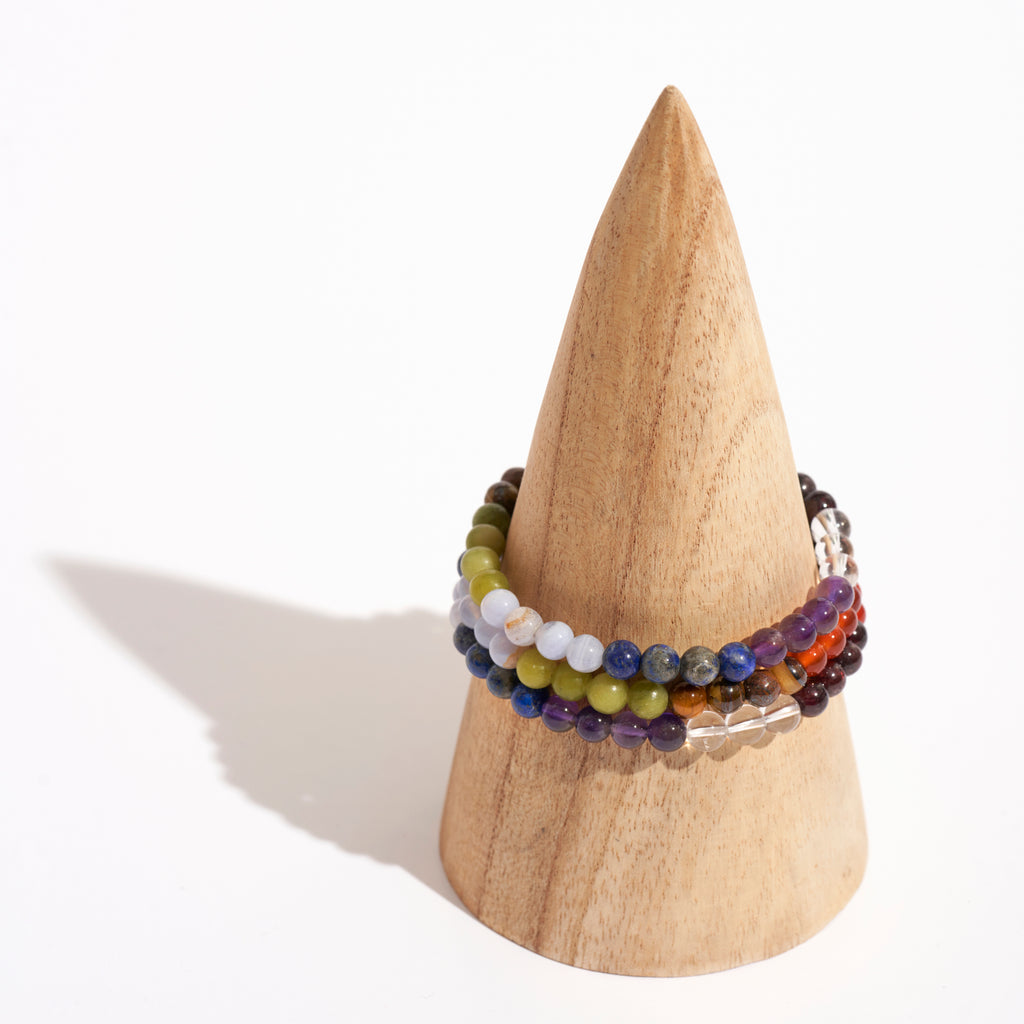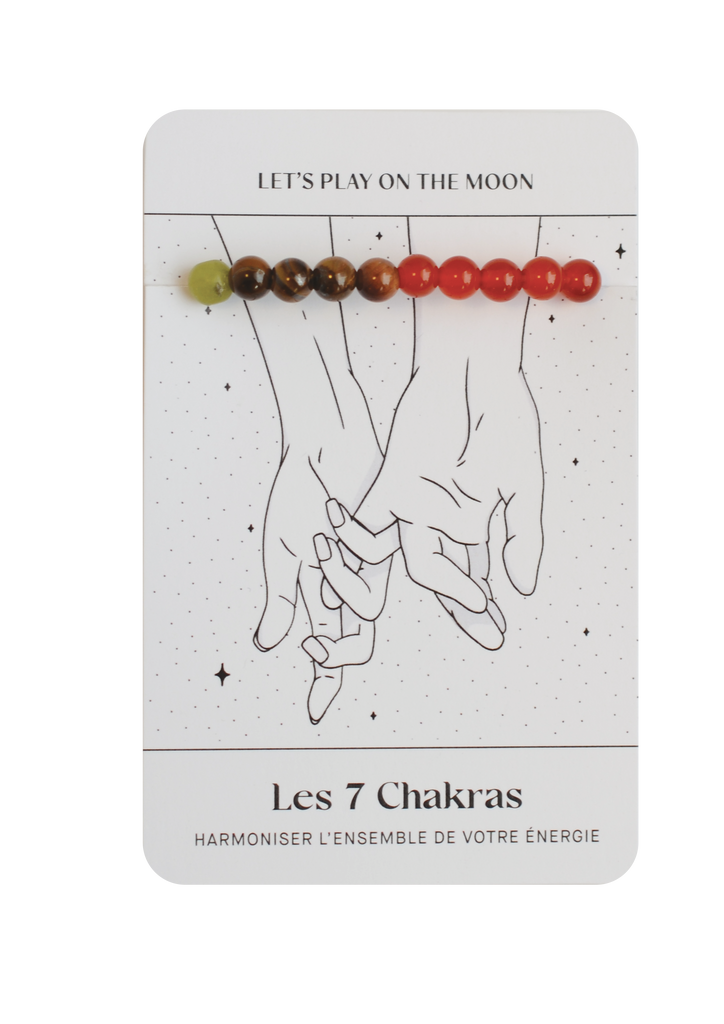 Bracelet 7 Chakras ⚖️ Balance of energy points
The 7 chakras bracelet brings together crystals and colors resonating on the same frequencies as our main energy points. It promotes the balance of the body's energies: with it, your 7 chakras shine with a thousand lights and make you shine!

The stones of the 7 chakras bracelet and their function:
1st Chakra: Red Garnet: anchoring and security
2nd Chakra: Carnelian: vitality and creativity
3rd Chakra: Tiger's Eye: confidence and radiance
4th Chakra: Nephrite Jade: love and benevolence
5th Chakra: Blue Chalcedony: expression and communication
6th Chakra: Lapis Lazuli: intuition and understanding
7th Chakra: Amethyst: spiritual openness and connection
Special Guest: Rock Crystal which amplifies the energy of all the stones that make up your bracelet. Superpower ⚡️

With this combo of crystals, you are ready to welcome harmony to your wrist!
On oneself :
Worn daily, the 7 chakras bracelet adjusts the pace of the energy wheels, whether they are lagging behind or hyper-speeding. Rebalancing, this bracelet aligns your energy and helps you find the cruising speed that suits you. No faster (or slower) than music, with the 7 chakras bracelet, you find your own rhythm! 🎶

In meditation:
Wear your 7 chakra bracelet during your meditation session to deeply harmonize and balance your energy. Acting on appeasement and anchoring through confidence and many others, this bracelet works on the whole of our soul and brings out all the light that our chakras contain. ✨
✦ Unload your wristband:
Pass your 7 Chakras bracelet under the smoke of White Sage or Palo santo to rid it of negative energies.
Place it in the center of a Tibetan bowl and let the bad energies escape thanks to the vibrations of the sounds.

✦ Recharge your wristband:
Take advantage of the soft light of the sun (morning or evening) to let your 7 Chakras bracelet take charge of its energies.

✦ Unload and Reload your bracelet:
Place your 7 Chakras Bracelet on the Flower of Life to discharge and recharge them.
Place it on a cluster of quartz or an amethyst geode.
Ball strap: 6mm

Diameter: 16 – 18 cm

Note: our packaging is made of recyclable material and the ink is vegetable-based.
À quoi correspond la qualité des cristaux ?
Sur chaque page présentant un minéral, vous pouvez retrouver la mention "Qualité" suivie de sa note. Chaque notation correspond à un critère qualité utilisé dans le monde des cristaux. Il en existe 5 :
B : Faible
AB : Standard
A : Bonne qualité
AA : Très bonne qualité
AAA : Meilleure qualité possible
Sur notre site, nous faisons le choix de ne proposer aucun cristal en dessous d'une classification AB afin de vous garantir la meilleure des qualités.
Si vous souhaitez en savoir plus sur la provenance, le sourcing et la qualité de nos produits, rendez-vous ici 🌈
LIVRAISON : Une fois que votre commande est validée de notre côté, nous l'expédions en moyenne dans les 1 à 2 jours ouvrables. Lorsque celle-ci est prise en charge par Colissimo, votre colis vous est livré dans les 2 à 5 jours ouvrables suivants.
RETOUR : Vos cristaux ne résonnent pas en vous ? Pas de panique, vous disposez d'un délai légal de 14 jours pour nous renvoyer les pépites qui ne vous conviennent pas.
Pour plus d'infos, n'hésitez pas à consulter notre FAQ 💬