Livraison offerte dès 49€ en France Métropolitaine 🚀
Première marque de développement spirituel à être distribuée dans les plus grands magasins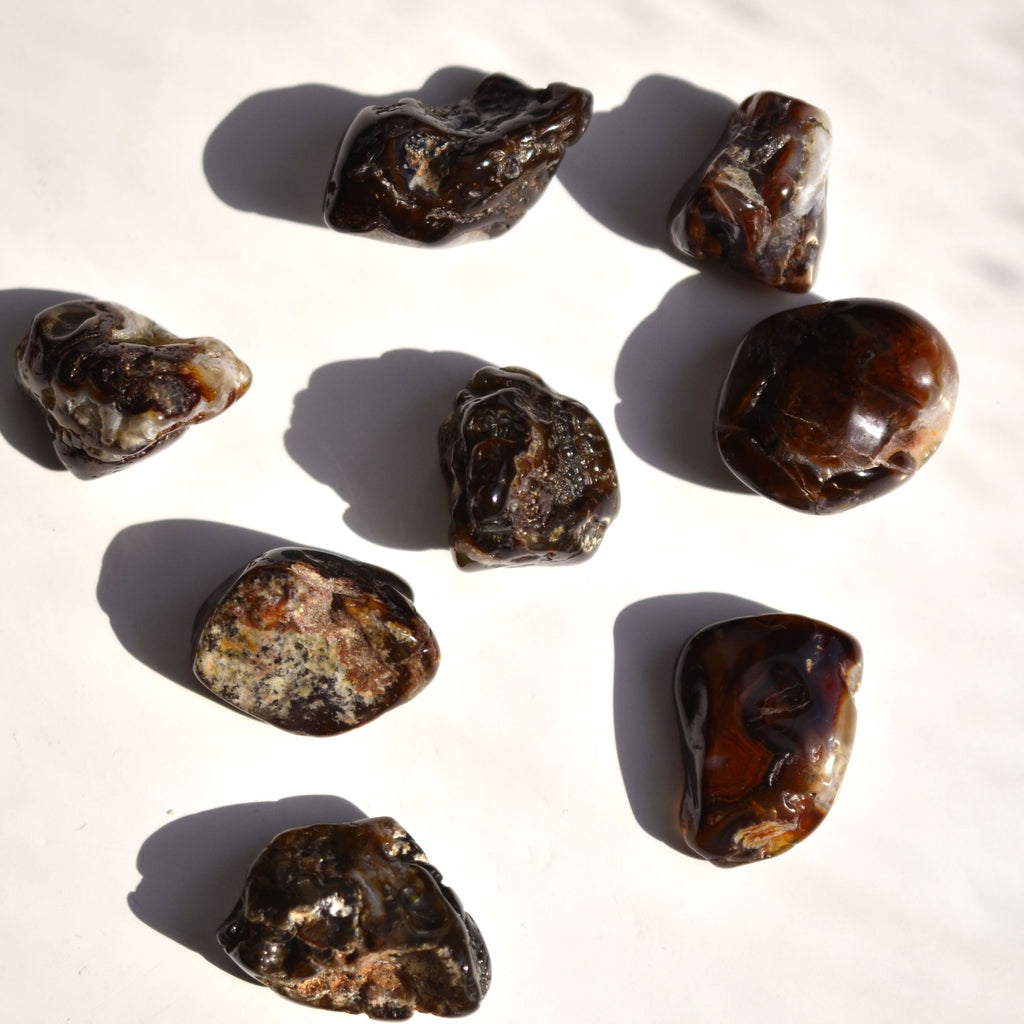 Agate Fire 🔥 Rekindle the fire
Between purring and passion, Fire Agate has chosen its camp, this stone is a creative arsonist who ignores conventions. His credo? "Accept all your craziness and let this unique je-ne-sais-quoi that shines in your eyes create fireworks in your life! »

Like a bonfire in the lower abdomen, the flames of which would burn away fears and deadly perfectionism, this crystal with its flamboyant aura brings courage and audacity to transform all obstacles into experiences.

You now know where to get the fuel you need to go after your dreams, maybe that's what we call "having the sacred fire"? Ole!
On oneself :
In your pocket or your purse, Fire Agate reduces your emotional blockages to ashes to allow you to dare, to throw yourself into the mouth of the wolf. Take risks ? It also means opening up to success, but you still have to find the courage to get started.

Home :
Place your Fire Agate in your place of life to relax the energy tensions that accumulate. With it, negative energies ricochet and take the first emergency exit.
🤫 The top secret tip: having a Fire Agate under your bed is the guarantee of a crazy night!

At work :
You are able to stay focused on a project without going from rooster to donkey in a split second. Say goodbye to the post-its that invade your desk, say hello to the to-do list. In your mind everything is as tidy as at Marie Kondo.

In meditation:
During your exercises, Fire Agate will be an essential tool to work on your lack of grounding. Visualize your body more anchored to the ground and less levitating. This will allow you to empty your mind to keep only the essential things, those that really matter to you.
✦ Unload your crystals:
Pass your stone under the smoke of White Sage or Palo Santo to rid it of negative energies.
Place it in the center of a Tibetan bowl and let the bad energies escape thanks to the vibrations of the sounds.

✦ Recharge your crystals:
Take advantage of the soft light of the sun (morning or evening) to let your stone take charge of its energies.
Put your stone in the ground so that it can discharge in a healthy environment.

✦ Unload and Reload your crystals
Place your crystals on the Flower of Life to discharge and recharge them.
Place your stone on a cluster of quartz or an amethyst geode.
Average weight: 12g

Quality: A
À quoi correspond la qualité des cristaux ?
Sur chaque page présentant un minéral, vous pouvez retrouver la mention "Qualité" suivie de sa note. Chaque notation correspond à un critère qualité utilisé dans le monde des cristaux. Il en existe 5 :
B : Faible
AB : Standard
A : Bonne qualité
AA : Très bonne qualité
AAA : Meilleure qualité possible
Sur notre site, nous faisons le choix de ne proposer aucun cristal en dessous d'une classification AB afin de vous garantir la meilleure des qualités.
Si vous souhaitez en savoir plus sur la provenance, le sourcing et la qualité de nos produits, rendez-vous ici 🌈
LIVRAISON : Une fois que votre commande est validée de notre côté, nous l'expédions en moyenne dans les 1 à 2 jours ouvrables. Lorsque celle-ci est prise en charge par Colissimo, votre colis vous est livré dans les 2 à 5 jours ouvrables suivants.
RETOUR : Vos cristaux ne résonnent pas en vous ? Pas de panique, vous disposez d'un délai légal de 14 jours pour nous renvoyer les pépites qui ne vous conviennent pas.
Pour plus d'infos, n'hésitez pas à consulter notre FAQ 💬