Livraison offerte dès 49€ en France Métropolitaine 🚀
Première marque de développement spirituel à être distribuée dans les plus grands magasins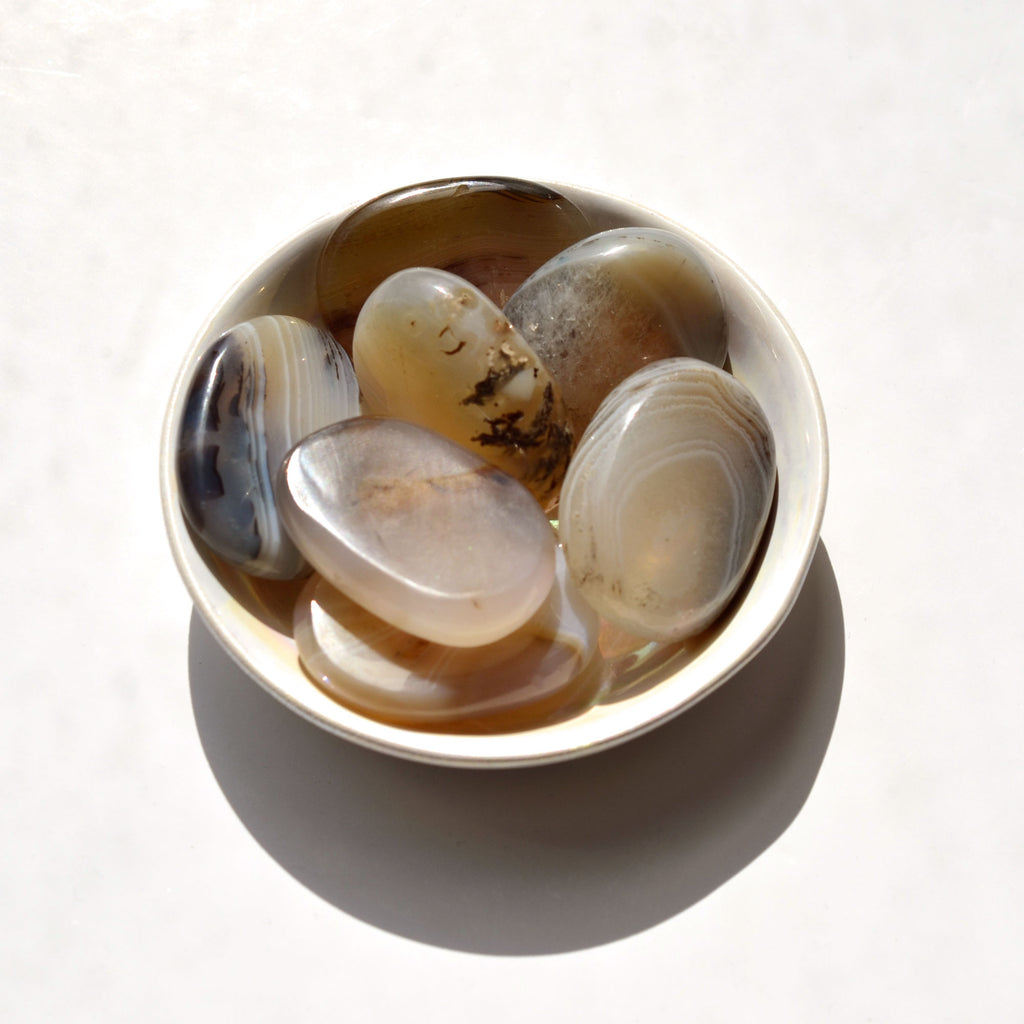 Fern Agate ⚖️ Rebalancing
Fern Agate helps you find the rhythm that suits you: night owl or super early riser, you are in tune with your productivity, your creativity and all the energies that help you move forward. Fern Agate also knows how to remind you to take care of yourself. There is a time for everything: to work but also to relax. Balance made stone!
Before retiring, graceful, the Agate Fougère whispers in our ear: "Everything comes at the right time to those who know how to wait. »
On oneself :
Slipped into your pocket throughout your day, Fern Agate, also called Dendritic Agate, guides you towards the balance of life that suits you (yours). It brings more confidence in your projects by proving to you that you have all the resources to get there!

Home :
Placed in a living room, the Agate Fern diffuses an energy of stability and harmony: it remotivates or invites you to relax depending on what the members of the household are going through. A stone of patience, it also helps to show indulgence towards oneself and to trust oneself, even during the storm.

In the office :
Near you when you work, Fern Agate invites you to put both feet on the ground to refocus your mind and stay focused on your day's missions. With her, it's concrete: you know how to quantify your work in order to better distribute it and become aware of what is important. Ready to build your empire? 🏰

In meditation:
Laying an Agate Fern during your meditation session helps you anchor yourself in reality. The spirit of realization that it induces is an excellent ally if you wish to manifest or visualize one of your (future) projects.
✦ Unload your crystals:
Pass your stone under the smoke of White Sage or Palo Santo to rid it of negative energies.
Place it in the center of a Tibetan bowl and let the bad energies escape thanks to the vibrations of the sounds.

✦ Recharge your crystals:
Take advantage of the soft light of the sun (morning or evening) to let your stone take charge of its energies.
Put your stone in the ground so that it can discharge in a healthy environment.

✦ Unload and Reload your crystals
Place your crystals on the Flower of Life to discharge and recharge them.
Place your stone on a cluster of quartz or an amethyst geode.
📏 Taille : 3cm
⚖️ Poids : 20 à 40g
✅ Qualité : AA
À quoi correspond la qualité des cristaux ?
Sur chaque page présentant un minéral, vous pouvez retrouver la mention "Qualité" suivie de sa note. Chaque notation correspond à un critère qualité utilisé dans le monde des cristaux. Il en existe 5 :
B : Faible
AB : Standard
A : Bonne qualité
AA : Très bonne qualité
AAA : Meilleure qualité possible
Sur notre site, nous faisons le choix de ne proposer aucun cristal en dessous d'une classification AB afin de vous garantir la meilleure des qualités.
Si vous souhaitez en savoir plus sur la provenance, le sourcing et la qualité de nos produits, rendez-vous ici 🌈
LIVRAISON : Une fois que votre commande est validée de notre côté, nous l'expédions en moyenne dans les 1 à 2 jours ouvrables. Lorsque celle-ci est prise en charge par Colissimo, votre colis vous est livré dans les 2 à 5 jours ouvrables suivants.
RETOUR : Vos cristaux ne résonnent pas en vous ? Pas de panique, vous disposez d'un délai légal de 14 jours pour nous renvoyer les pépites qui ne vous conviennent pas.
Pour plus d'infos, n'hésitez pas à consulter notre FAQ 💬