Livraison offerte dès 49€ en France Métropolitaine 🚀
Première marque de développement spirituel à être distribuée dans les plus grands magasins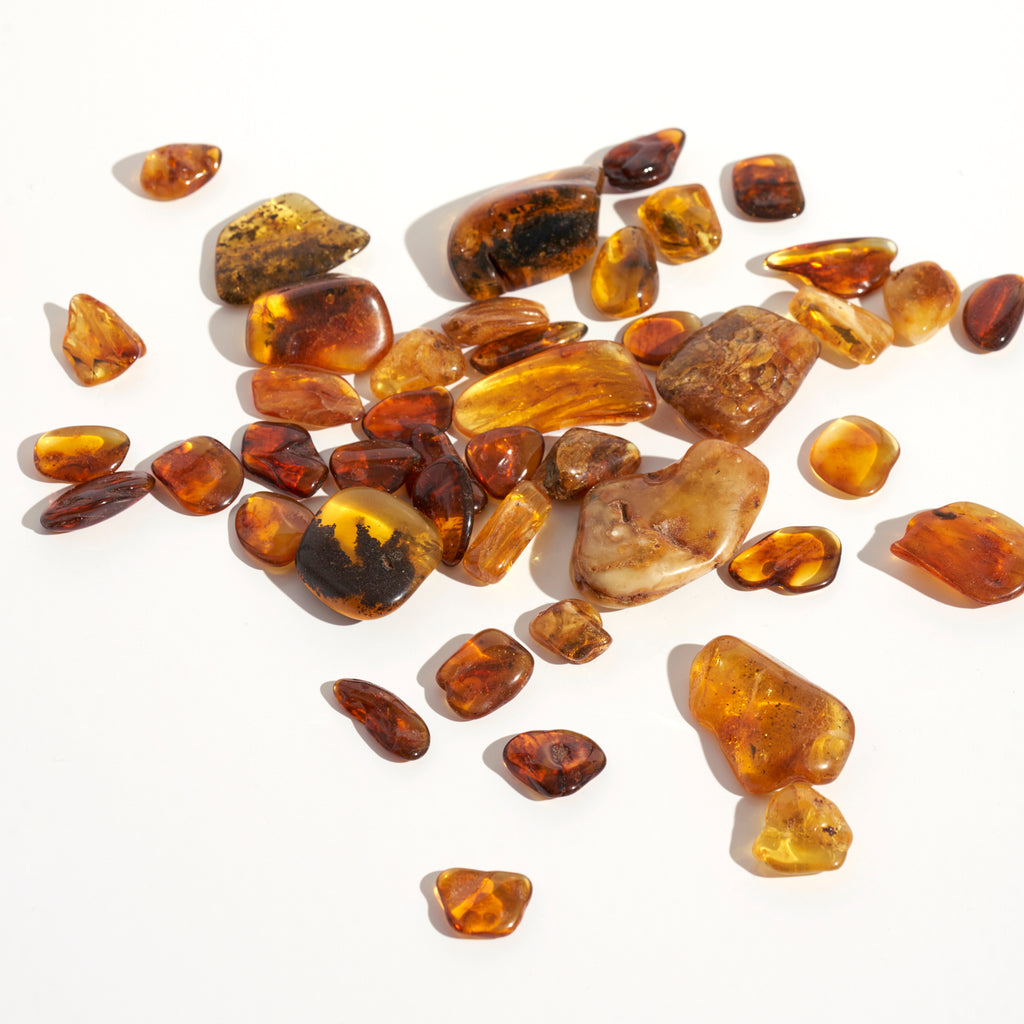 A vector of patience, motivation and wisdom, Amber knows how to appease the spirits when it comes to achieving one's dreams. It teaches you to trust this inner sun, because as long as it shines, its powerful rays will bring you the energy necessary for self-realization. Take out your sunglasses and the index 50, you will shine! 😎
On oneself :
In a pocket or in the bra (near the heart), Amber forms a shield of golden light, it pampers self-esteem and its solar rays dissipate mental fog. Like a benevolent parent, she watches over the grain and chases away bad influences.
Alchemical resin, amber revitalizes your energy and transforms negativity into joy: No toxicity in my body!

Home :
In a living room, Amber diffuses a golden and warm energy that purifies the atmosphere to keep only the best. It regenerates gloomy moods and stimulates the life drive of each member of your household. You-pi.
In a bedroom, this luminous resin increases your magnetism and attracts love in all its forms and for a long time. Ended, the stories without a future.

Work / study:
If the open space was a solar system, with Amber on your desk, you would be the central nugget. However, it protects you from the negativity that hovers when your whole team is about to give up.
An ambitious resin, its power of manifestation gives you the power to enrich your projects and your portfolio. Stimulating, its light illuminates your thoughts and you aim more accurately, further, higher!
Ready to take off?

Meditation :
Amber is an ancestor who opens a door to immemorial wisdom. Its light facilitates communication with the subtle planes. It ideally accompanies practices related to past lives and the transgenerational.
The ancient energy of Amber also allows you to connect with the healing properties of Mother Earth, meditating alongside her may well awaken the Shaman within you.
✦ Unload your crystals:
Pass your stone under the smoke of White Sage or Palo santo to rid it of negative energies.
Place it in the center of a Tibetan bowl and let the bad energies escape thanks to the vibrations of the sounds.
On a cluster of quartz or an amethyst geode.

✦ Recharge your crystals:
Take advantage of the soft light of the sun (morning or evening) or the moon to let your stone take charge of its energies.

✦ Unload and Reload your crystals:
Place your crystals on the Flower of Life to discharge and recharge them.
Place your stone on a cluster of quartz or an amethyst geode.
À quoi correspond la qualité des cristaux ?
Sur chaque page présentant un minéral, vous pouvez retrouver la mention "Qualité" suivie de sa note. Chaque notation correspond à un critère qualité utilisé dans le monde des cristaux. Il en existe 5 :
B : Faible
AB : Standard
A : Bonne qualité
AA : Très bonne qualité
AAA : Meilleure qualité possible
Sur notre site, nous faisons le choix de ne proposer aucun cristal en dessous d'une classification AB afin de vous garantir la meilleure des qualités.
Si vous souhaitez en savoir plus sur la provenance, le sourcing et la qualité de nos produits, rendez-vous ici 🌈
LIVRAISON : Une fois que votre commande est validée de notre côté, nous l'expédions en moyenne dans les 1 à 2 jours ouvrables. Lorsque celle-ci est prise en charge par Colissimo, votre colis vous est livré dans les 2 à 5 jours ouvrables suivants.
RETOUR : Vos cristaux ne résonnent pas en vous ? Pas de panique, vous disposez d'un délai légal de 14 jours pour nous renvoyer les pépites qui ne vous conviennent pas.
Pour plus d'infos, n'hésitez pas à consulter notre FAQ 💬