Livraison offerte dès 49€ en France Métropolitaine 🚀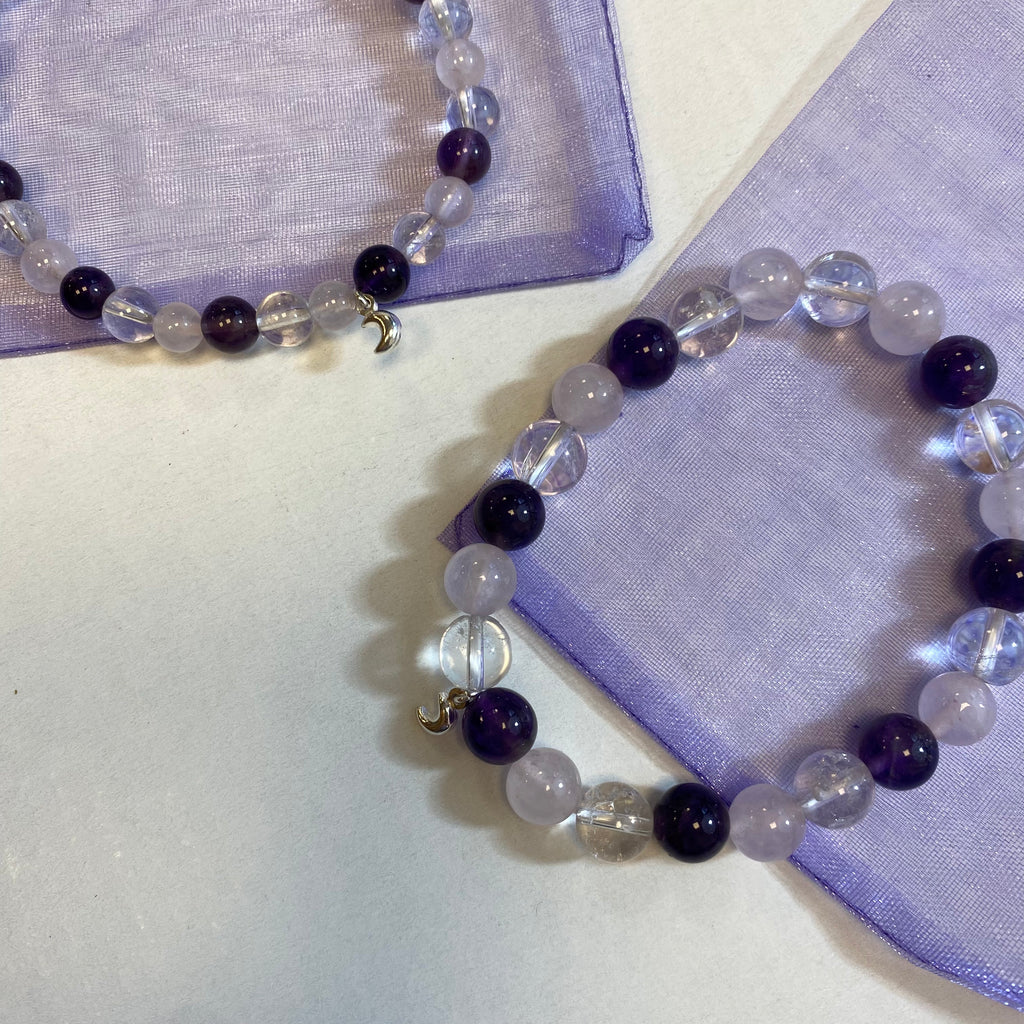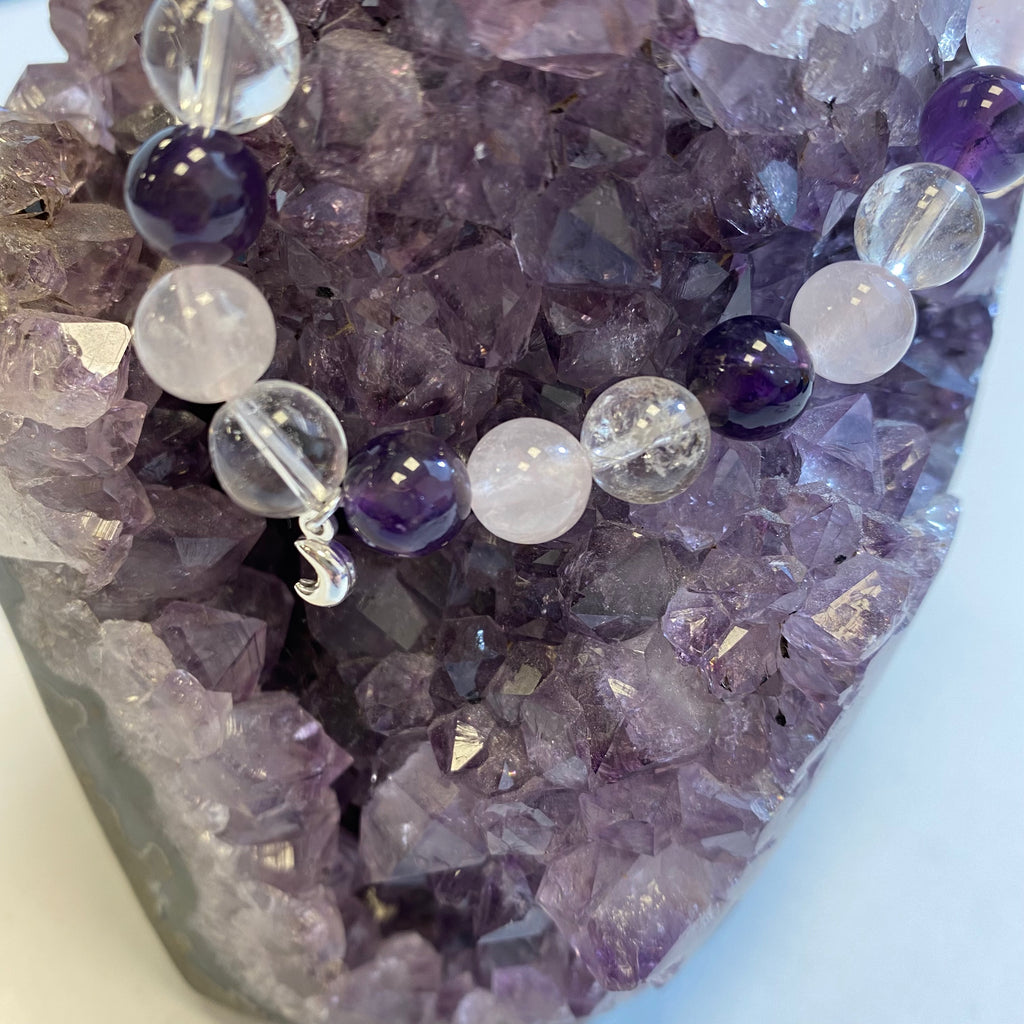 BIJOUX⎜BIJOUX D'INTENTION BY CAROLE SMILE ✨
Bracelets of intentions by Carole Smile to let go & open up to love
Carole, founder of the brand, with mystical sensitivity, uses her intuition and her extrasensory perceptions to program your bracelet with the energies and intentions you need: powerful and transforming vibrations to wear on the wrist!

How ? Through a ritual of sacred purification and channeling of vibrational intentions, Carole programs your bracelet with the energies you need at this moment, to let go and open yourself up to Love (of yourself!). You will also receive a personalized mantra to repeat to yourself to strengthen your energy and that of your intention bracelet. Do you want to work on a particular blockage? Leave a note for Carole when placing your order to let her know.

By programming your bracelet, the energy aura of the 3 crystals that make up the bracelet is greater:

- Rose Quartz: stone of self-love, it opens the heart to unconditional love. It strengthens the bonds of affection and promotes self-confidence. The self-care stone of the heart 💖

- Amethyst: spiritual guide, Amethyst creates a bubble of serenity chasing tensions and mental fog for deep relaxation. The pearl to find peace 🙏🏽

- Rock Crystal: clear and transparent, it is the stone to take a step back and see things at 360°. She is a vector of great wisdom, worthy of a Shaolin monk. In addition to this, the Rock Crystal increases the vibration rate of the crystals around it 🔮
On oneself :
On the wrist, your bracelet soothes you every day: by its side, you are at peace with your emotions and you welcome love with wide open arms. Serene heart, you move forward with kindness towards yourself and others. Your mind no longer gives in to panic and you look to the future with a good eye, ready to get started without stress!

Work :
Worn when you work, your bracelet accompanies you and supports you through all your projects! It helps you keep a clear mind even when there is a lot of information. A well-being tool, it also reminds you how important it is to take breaks and respect your own pace to stay productive.

Home :
Worn at home, your bracelet strengthens the bonds of love and unites you with your entire tribe. The big heart like that, the feeling of benevolence and security that it brings encourages you to share your emotions. Head light as a feather, your home turns into a safe place where you can recharge your batteries.

Meditation :
Used during your meditation sessions, your bracelet develops clairvoyance, increases extrasensory capacities and works on opening the heart, forgiveness, understanding. It is effective in reducing energy blockages and purifying the aura.
Your bracelet has been purified by Carole Smile before sending (unloading and reloading ritual), so it is ready to be worn upon receipt. The advice detailed below will be put into practice in the following months, for the maintenance of your intention bracelet.

Unload your crystals:
Pass your stone under the smoke of White Sage or Palo santo to rid it of negative energies.
Place it in the center of a Tibetan bowl and let the bad energies escape thanks to the vibrations of the sounds.

Recharge your crystals:
Take advantage of the soft light of the sun (morning or evening) or the moon to let your stone take charge of its energies.
Put your stone in the ground so that it can discharge in a healthy environment.

Unloading and Recharging your crystals:
Place your crystals on the Flower of Life to discharge and recharge them.
Place your stone on a cluster of quartz or an amethyst geode.
Ball bracelet: 6mm or 8mm

Diameter: 16 – 18 cm

À quoi correspond la qualité des cristaux ?
Sur chaque page présentant un minéral, vous pouvez retrouver la mention "Qualité" suivie de sa note. Chaque notation correspond à un critère qualité utilisé dans le monde des cristaux. Il en existe 5 :
B : Faible
AB : Standard
A : Bonne qualité
AA : Très bonne qualité
AAA : Meilleure qualité possible
Sur notre site, nous faisons le choix de ne proposer aucun cristal en dessous d'une classification AB afin de vous garantir la meilleure des qualités.
Si vous souhaitez en savoir plus sur la provenance, le sourcing et la qualité de nos produits, rendez-vous ici 🌈
LIVRAISON : Une fois que votre commande est validée de notre côté, nous l'expédions en moyenne dans les 1 à 2 jours ouvrables. Lorsque celle-ci est prise en charge par Colissimo, votre colis vous est livré dans les 2 à 5 jours ouvrables suivants.
RETOUR : Vos cristaux ne résonnent pas en vous ? Pas de panique, vous disposez d'un délai légal de 14 jours pour nous renvoyer les pépites qui ne vous conviennent pas.
Pour plus d'infos, n'hésitez pas à consulter notre FAQ 💬