Livraison offerte dès 49€ en France Métropolitaine 🚀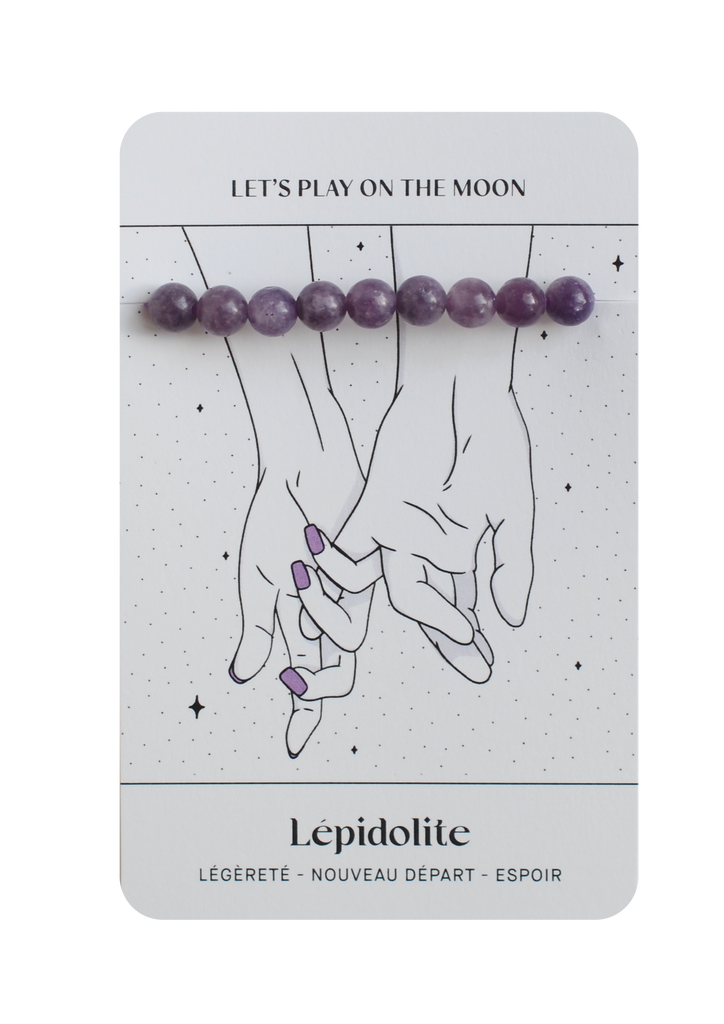 Lepidolite bracelet 🧘🏽‍♀️ Deep appeasement
Powerful stone of security and confidence in the future, with it we imagine tomorrows that sing! The Lepidolite bracelet repels fears of the unknown and brings a maximum dose of calm and inner balance. A real safety net in case of turbulence in life... Remedy for anxiety attacks and nervousness, its candy purple gives you lightness and calm.

His particuliarity ? It helps you to remain yourself in all circumstances, and not to fall under someone's thumb, a nice way also to free yourself from the gaze of others. A veritable negativity radar, this stone also repels people who are a bit too dark for you. It helps you not to take anything too personal.

With the Lepidolite bracelet, everything slides on you.
On oneself :
In your pocket or bag, Lepidolite eases the fear of the unknown. It reminds you that you have the right to live a happy life by helping you get rid of feelings of depression and irritability.

Work :
Near you when you work, Lepidolite motivates you and gives you renewed courage. His optimism reminds you that anything is possible.

In meditation:
Lepidolite brings calm, serenity and harmony. Placed on the crown chakra, Lepidolite opens the mind to higher spheres.
✦ Unload your crystals:
Pass your stone under the smoke of White Sage or Palo santo to rid it of negative energies.
Place it in the center of a Tibetan bowl and let the bad energies escape thanks to the vibrations of the sounds.
Place your stone on a cluster of quartz or an amethyst geode.

✦ Recharge your crystals:
Take advantage of the soft light of the moon to let your stone take charge of its energies.
Put your stone in the ground so that it can discharge in a healthy environment.

✦ Unload and Reload your bracelet:
Place your bracelet on the Flower of Life to unload and reload them.
Place it on a cluster of quartz or an amethyst geode.
Ball strap: 6mm

Note: our packaging is made of recyclable material and the ink is vegetable-based.
À quoi correspond la qualité des cristaux ?
Sur chaque page présentant un minéral, vous pouvez retrouver la mention "Qualité" suivie de sa note. Chaque notation correspond à un critère qualité utilisé dans le monde des cristaux. Il en existe 5 :
B : Faible
AB : Standard
A : Bonne qualité
AA : Très bonne qualité
AAA : Meilleure qualité possible
Sur notre site, nous faisons le choix de ne proposer aucun cristal en dessous d'une classification AB afin de vous garantir la meilleure des qualités.
Si vous souhaitez en savoir plus sur la provenance, le sourcing et la qualité de nos produits, rendez-vous ici 🌈
LIVRAISON : Une fois que votre commande est validée de notre côté, nous l'expédions en moyenne dans les 1 à 2 jours ouvrables. Lorsque celle-ci est prise en charge par Colissimo, votre colis vous est livré dans les 2 à 5 jours ouvrables suivants.
RETOUR : Vos cristaux ne résonnent pas en vous ? Pas de panique, vous disposez d'un délai légal de 14 jours pour nous renvoyer les pépites qui ne vous conviennent pas.
Pour plus d'infos, n'hésitez pas à consulter notre FAQ 💬