Livraison offerte dès 49€ en France Métropolitaine 🚀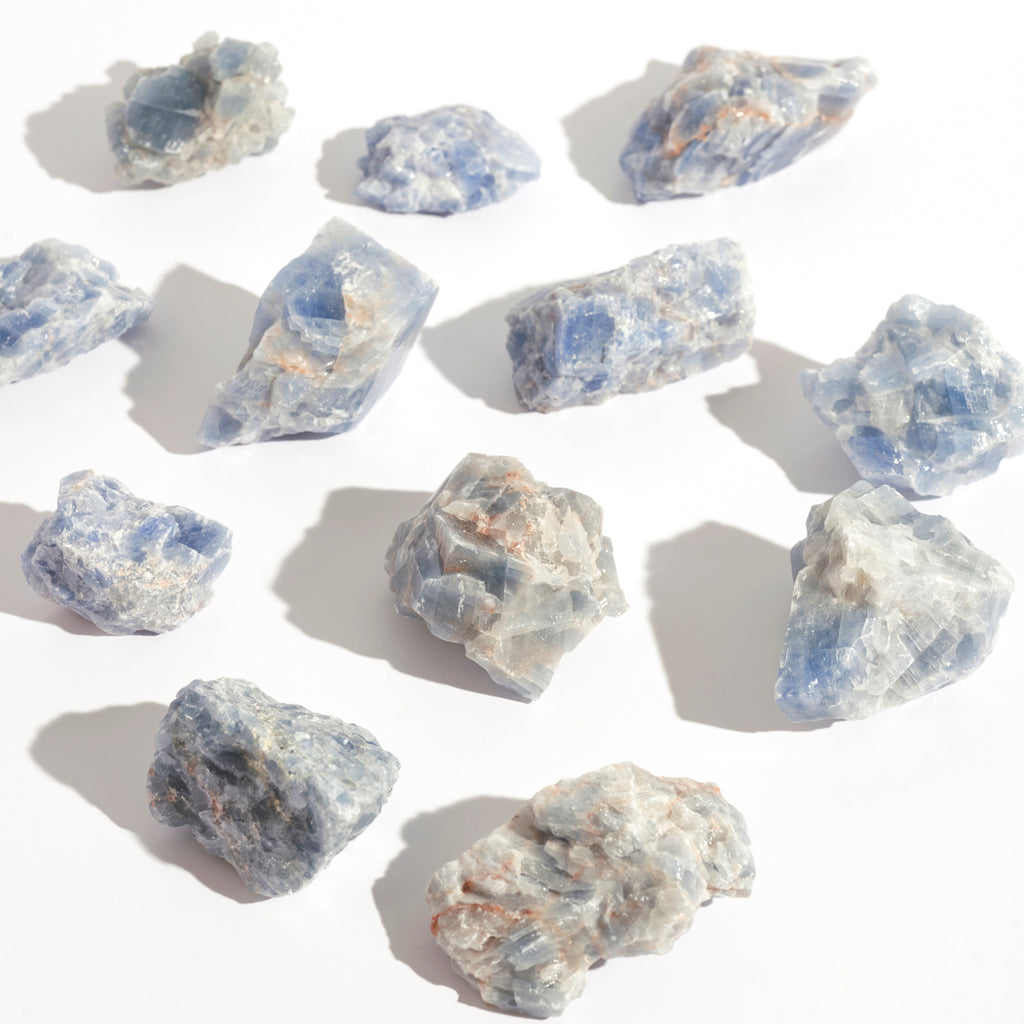 Raw Blue Calcite 🦋 Communication and appeasement
Connected to the throat chakra, Blue Calcite is a great communicator. She induces calm in the conversation, whether you have a presentation to make in front of strangers or a secret to tell your BF.
On oneself :
With you every day, Blue Calcite shows you the unsuspected power of communication every day! Soothing, it leads you straight to letting go to leave the past in the past and finally focus on what matters today.

Home :
Placed in a living room, Blue Calcite opens up discussion on all subjects. It promotes an energy centered around understanding others, tolerance and active listening. Your living room is transformed into a safe place where everyone is free to share their feelings in complete safety.

At work :
Placed near you when you work, Blue Calcite helps you with all communication-related activities: writing a project, listening during a brief, speaking during a meeting, all while making sure to keep your stress level at its lowest!

In meditation:
Used during your meditation or yoga sessions, Blue Calcite accompanies all your introspections: a pocket mirror, it helps you find your truth. It also allows you to welcome all your emotions with kindness.
✦ Unload your crystals:
Pass your stone under the smoke of White Sage or Palo Santo to rid it of negative energies.
Place it in the center of a Tibetan bowl and let the bad energies escape thanks to the vibrations of the sounds.
Place your stone on a cluster of quartz or an amethyst geode.

✦ Recharge your crystals:
Take advantage of the soft light of the sun (morning or evening) to let your stone take charge of its energies.

✦ Unload and Reload your crystals
Place your crystals on the Flower of Life to discharge and recharge them.
Place your stone on a cluster of quartz or an amethyst geode.
Average weight: 20g to 50g
À quoi correspond la qualité des cristaux ?
Sur chaque page présentant un minéral, vous pouvez retrouver la mention "Qualité" suivie de sa note. Chaque notation correspond à un critère qualité utilisé dans le monde des cristaux. Il en existe 5 :
B : Faible
AB : Standard
A : Bonne qualité
AA : Très bonne qualité
AAA : Meilleure qualité possible
Sur notre site, nous faisons le choix de ne proposer aucun cristal en dessous d'une classification AB afin de vous garantir la meilleure des qualités.
Si vous souhaitez en savoir plus sur la provenance, le sourcing et la qualité de nos produits, rendez-vous ici 🌈
LIVRAISON : Une fois que votre commande est validée de notre côté, nous l'expédions en moyenne dans les 1 à 2 jours ouvrables. Lorsque celle-ci est prise en charge par Colissimo, votre colis vous est livré dans les 2 à 5 jours ouvrables suivants.
RETOUR : Vos cristaux ne résonnent pas en vous ? Pas de panique, vous disposez d'un délai légal de 14 jours pour nous renvoyer les pépites qui ne vous conviennent pas.
Pour plus d'infos, n'hésitez pas à consulter notre FAQ 💬