Livraison offerte dès 49€ en France Métropolitaine 🚀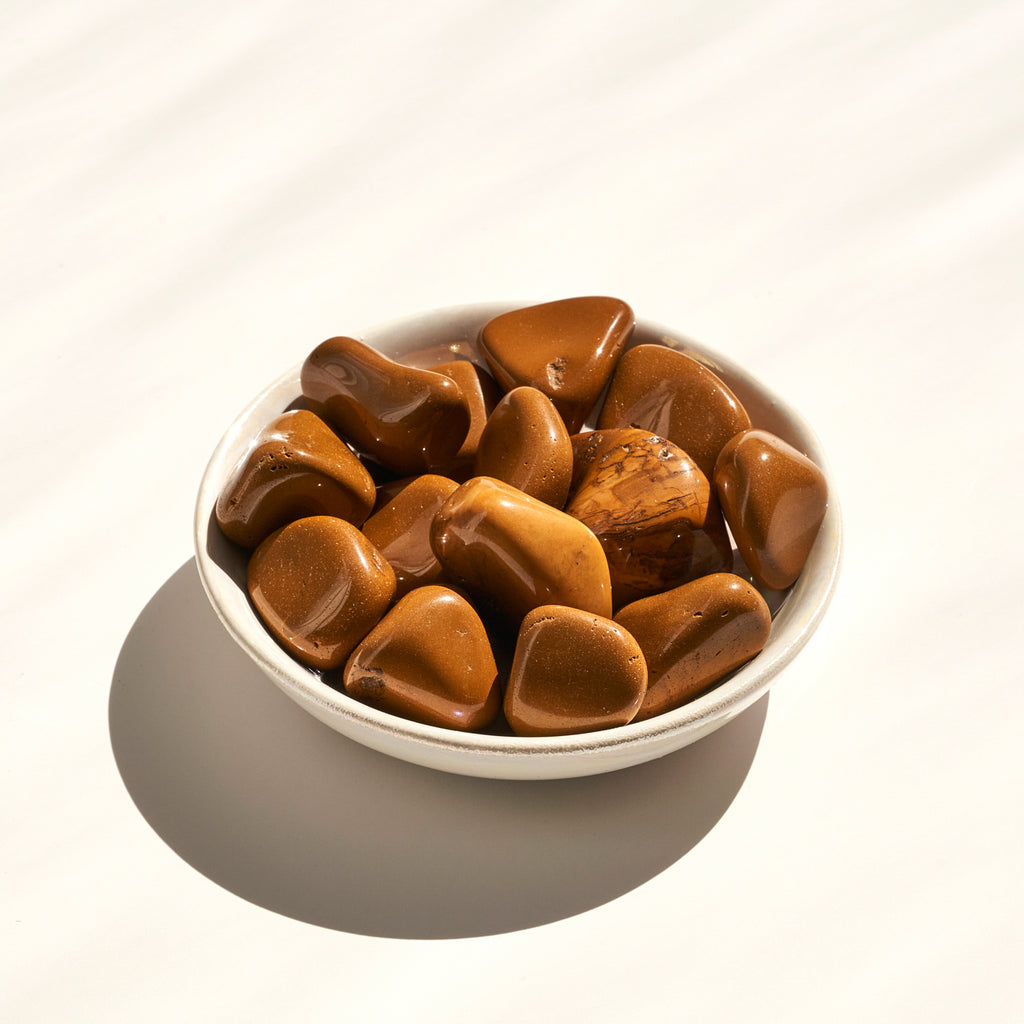 Yellow Jasper
Just a clarification… on the most beautiful images of my life!

Yellow Jasper calls for a small, fair and benevolent assessment of your life, there and now. With this crystal, you will regain all your common sense and finally make the right decisions. In his keychain, you will draw energy, enthusiasm and self-confidence! Doubt and fear of doing wrong no longer exist. It wraps you in a soft, warm veil to encourage you to accept every event in your life.

Its little extra? In the relational field, it helps you to keep only the cream of the crop! You are on top in your sneakers, and your surroundings reflect your good vibes!
On oneself :
In a pocket or in the bra (near the heart), the Yellow Jasper marvelously accompanies the moments of assessment, when it is a question of readjusting its trajectory with optimism to take up new challenges. Its soft light balances your relationships, it becomes easier to choose a supportive environment and to banish toxic substances without guilt.

Home :
Placed in a room of the house, the Yellow Jasper diffuses an enthusiastic and warm energy throughout the space. By whistling "There's joy" to whoever wants to hear it and this crystal puts a good mood in your home and promotes prosperity.

Work / studies:
Placed on the desk, Yellow Jasper sharpens your concentration and your perseverance when it comes to achieving ambitious goals. This stone increases your practicality and promotes informed decision-making.

Meditation / yoga:
Yellow Jasper is the ideal stone when it comes to redirecting your life. If you feel lost, meditating with this crystal will light your lantern to find the way to joy.
During your transgenerational practices, it sheds light on the richness of your lineage and shows you that beyond the traumas, there is also a treasure to recognize and pass on.
✦ Unload your crystals:
Pass your stone under the smoke of White Sage or Palo santo to rid it of negative energies.
Place it in the center of a Tibetan bowl and let the bad energies escape thanks to the vibrations of the sounds.
Place your stone on a cluster of quartz or an amethyst geode.

✦ Recharge your crystals:
Take advantage of the soft light of the sun (morning or evening) to let your stone take charge of its energies.
Average weight: 20g
À quoi correspond la qualité des cristaux ?
Sur chaque page présentant un minéral, vous pouvez retrouver la mention "Qualité" suivie de sa note. Chaque notation correspond à un critère qualité utilisé dans le monde des cristaux. Il en existe 5 :
B : Faible
AB : Standard
A : Bonne qualité
AA : Très bonne qualité
AAA : Meilleure qualité possible
Sur notre site, nous faisons le choix de ne proposer aucun cristal en dessous d'une classification AB afin de vous garantir la meilleure des qualités.
Si vous souhaitez en savoir plus sur la provenance, le sourcing et la qualité de nos produits, rendez-vous ici 🌈
LIVRAISON : Une fois que votre commande est validée de notre côté, nous l'expédions en moyenne dans les 1 à 2 jours ouvrables. Lorsque celle-ci est prise en charge par Colissimo, votre colis vous est livré dans les 2 à 5 jours ouvrables suivants.
RETOUR : Vos cristaux ne résonnent pas en vous ? Pas de panique, vous disposez d'un délai légal de 14 jours pour nous renvoyer les pépites qui ne vous conviennent pas.
Pour plus d'infos, n'hésitez pas à consulter notre FAQ 💬