Livraison offerte dès 49€ en France Métropolitaine 🚀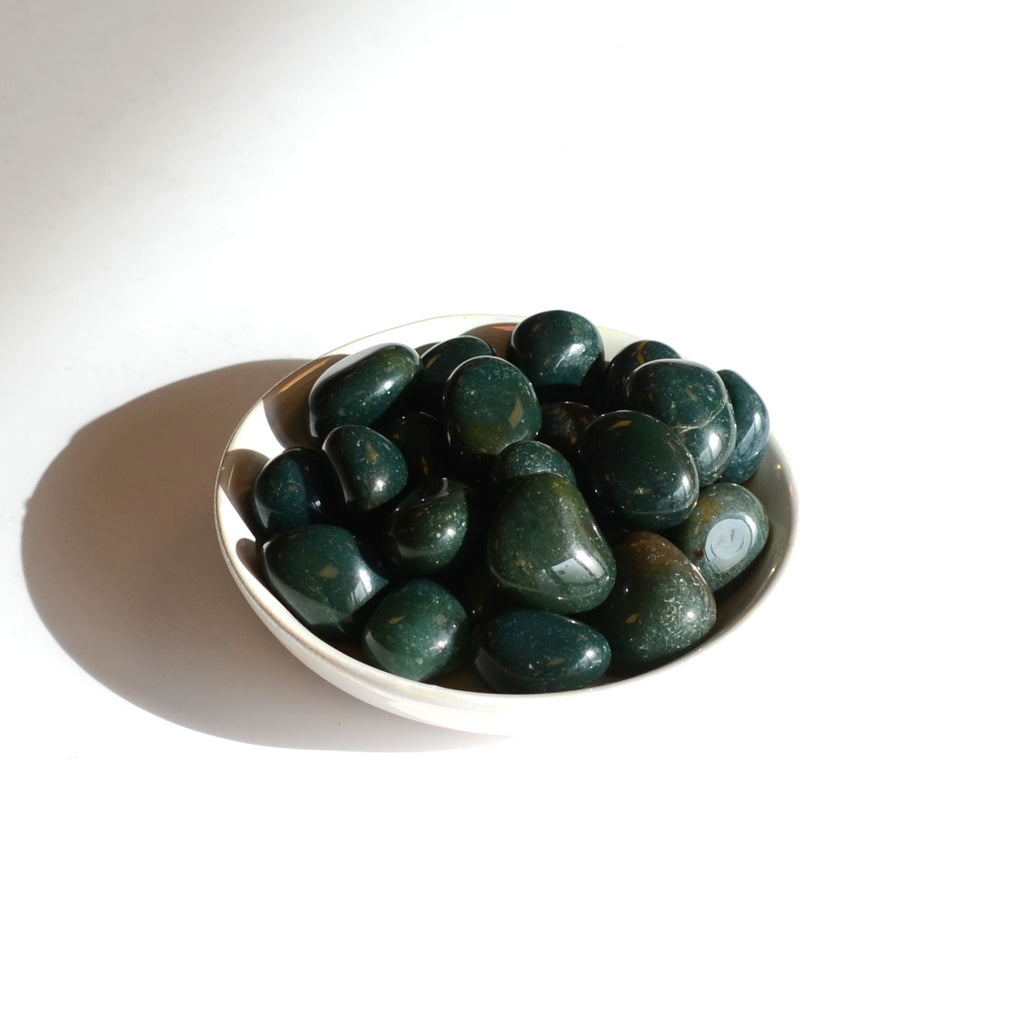 Green Jasper
Green Jasper takes your heart by the hand, helping you to take care of it, before that of others! We can sometimes feel overwhelmed by the tumult of emotions, and its role is to embrace this movement, to become one with it!

The priority is you! By giving more importance to your feelings, you will better know how to magnify them! Green Jasper balances your heart, and nourishes it with positive, forward-looking energy.

It is the perfect ally for people looking for acceptance.
On oneself :
Worn in your bra, in a bag or in your hand, Green Jasper helps you to have confidence in your choices, especially those of the heart. For what ? To ensure the balance between giving and receiving. Green Jasper will always be there to gently tap you on the shoulder to remind you that it's time to set your limits (and stick to them!) Yeah, you can do it!

Work :
Placed on a desk, Green Jasper relieves your thoughts of matters of the heart to guide you on the virtuous path of concentration. It helps you find the balance that suits you between professional life and personal life so that you can take full advantage of the time allocated to each.

Home :
Placed in a living room, Green Jasper strengthens the spirit of understanding by aligning hearts on the same wavelengths.
Placed in a room, it amplifies the feeling of love by giving it more depth in all benevolence. It strengthens the bond and the relationship you have with your +1 or with yourself ❤️

Meditation & Yoga:
Use Green Jasper during your meditations or yoga sessions when you need to harmonize your emotions, understand them, accept them and believe in yourself. Its softness anchors you to the Earth to connect you to all its positive energies which helps you to welcome the future with wide open arms.

✦ Unload your crystals:
Pass your stone under the smoke of White Sage or Palo santo to rid it of negative energies.
Place it in the center of a Tibetan bowl and let the bad energies escape thanks to the vibrations of the sounds.

✦ Recharge your crystals:
Take advantage of the soft light of the sun (morning or evening) to let your stone take charge of its energies.

✦ Unload and Reload your crystals
Place your crystals on the Flower of Life to discharge and recharge them.
Place your stone on a cluster of quartz or an amethyst geode.
Average weight: 6 to 10g

Quality: A
À quoi correspond la qualité des cristaux ?
Sur chaque page présentant un minéral, vous pouvez retrouver la mention "Qualité" suivie de sa note. Chaque notation correspond à un critère qualité utilisé dans le monde des cristaux. Il en existe 5 :
B : Faible
AB : Standard
A : Bonne qualité
AA : Très bonne qualité
AAA : Meilleure qualité possible
Sur notre site, nous faisons le choix de ne proposer aucun cristal en dessous d'une classification AB afin de vous garantir la meilleure des qualités.
Si vous souhaitez en savoir plus sur la provenance, le sourcing et la qualité de nos produits, rendez-vous ici 🌈
LIVRAISON : Une fois que votre commande est validée de notre côté, nous l'expédions en moyenne dans les 1 à 2 jours ouvrables. Lorsque celle-ci est prise en charge par Colissimo, votre colis vous est livré dans les 2 à 5 jours ouvrables suivants.
RETOUR : Vos cristaux ne résonnent pas en vous ? Pas de panique, vous disposez d'un délai légal de 14 jours pour nous renvoyer les pépites qui ne vous conviennent pas.
Pour plus d'infos, n'hésitez pas à consulter notre FAQ 💬