Livraison offerte dès 49€ en France Métropolitaine 🚀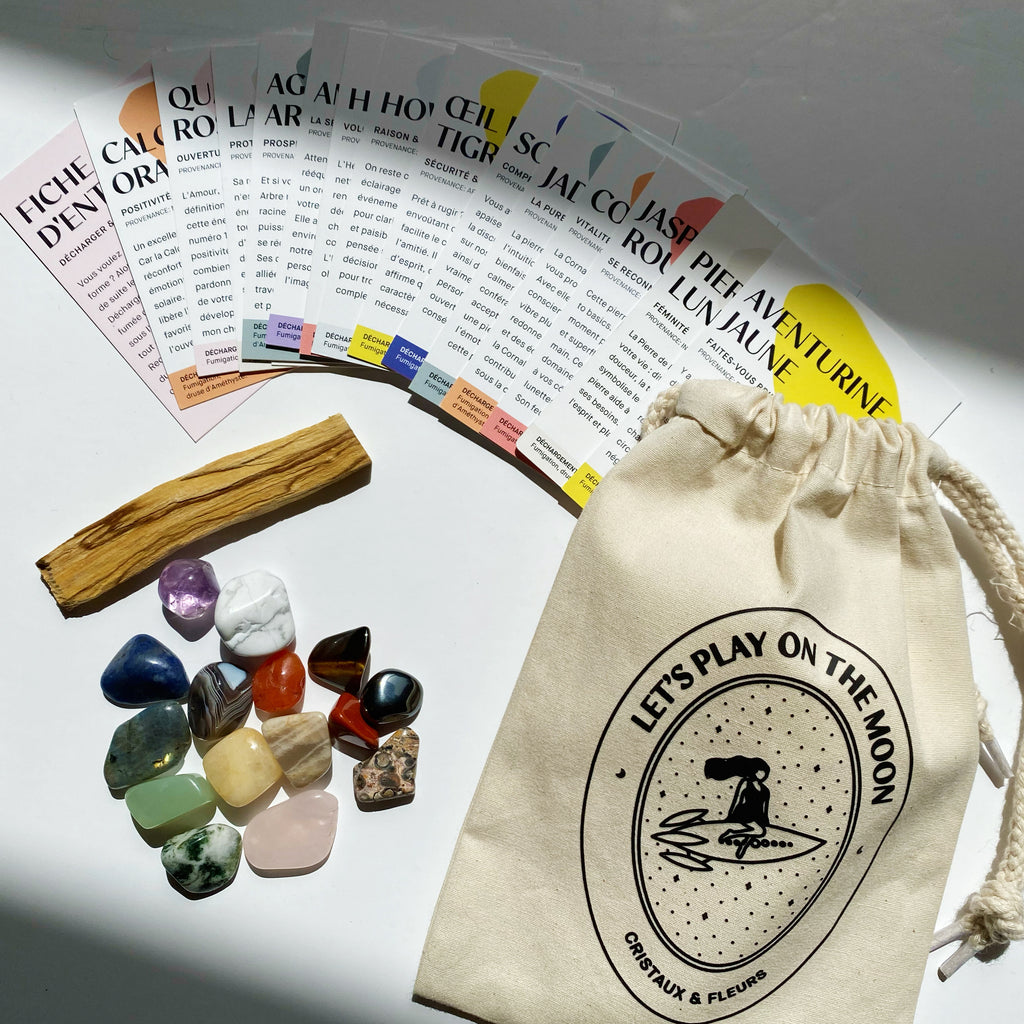 Beginner's Lithotherapy Kit
Benefits, uses, unloading, reloading... Your nuggets will soon hold no secrets for you! With your new crystals, discover the energy of the chakras and reconnect with each emotion crossed.

Your first steps in the marvelous world of crystals will help you to be more attentive to your heart and your intuitions as well as to understand what your needs are and identify the crystals that will accompany you.

Bonus: your kit also includes a Palo Santo stick to discharge your treasures of stored energies.
To begin your practice gently, every morning follow your intuition and choose your crystal of the day, then discover your message thanks to the explanatory card that accompanies it. Take your stone in hand and observe your feelings: tingling, appeasement, anchoring...? After that, your crystal can accompany you throughout your day if you feel the need.

Over the days, you will get to know each of the 15 stones. You will be able to identify which crystals you need depending on the emotion you are going through.

To go further in your discovery, you can meditate or perform new draws with your 15 crystals.

Print ideas: Looking for inspiration? Here are some draw ideas for you or your loved ones:

✦ Loves (Love is all)
✦ Family (It's sacred)
✦ Pro (Just do it)
✦ Friendship (BFF 4ever)
In this kit, you will find all the ways to take care of your crystals at the bottom of the associated explanatory sheets (spoiler alert: you can use your Sage or Palo Santo to discharge all your crystals)
Pouch size: 20cm
Contents: 15 must-have crystals, 16 explanatory sheets, 1 stick of Palo Santo.
LIVRAISON : Une fois que votre commande est validée de notre côté, nous l'expédions en moyenne dans les 1 à 2 jours ouvrables. Lorsque celle-ci est prise en charge par Colissimo, votre colis vous est livré dans les 2 à 5 jours ouvrables suivants.
RETOUR : Vos cristaux ne résonnent pas en vous ? Pas de panique, vous disposez d'un délai légal de 14 jours pour nous renvoyer les pépites qui ne vous conviennent pas.
Pour plus d'infos, n'hésitez pas à consulter notre FAQ 💬