Livraison offerte dès 49€ en France Métropolitaine 🚀
Première marque de développement spirituel à être distribuée dans les plus grands magasins ✨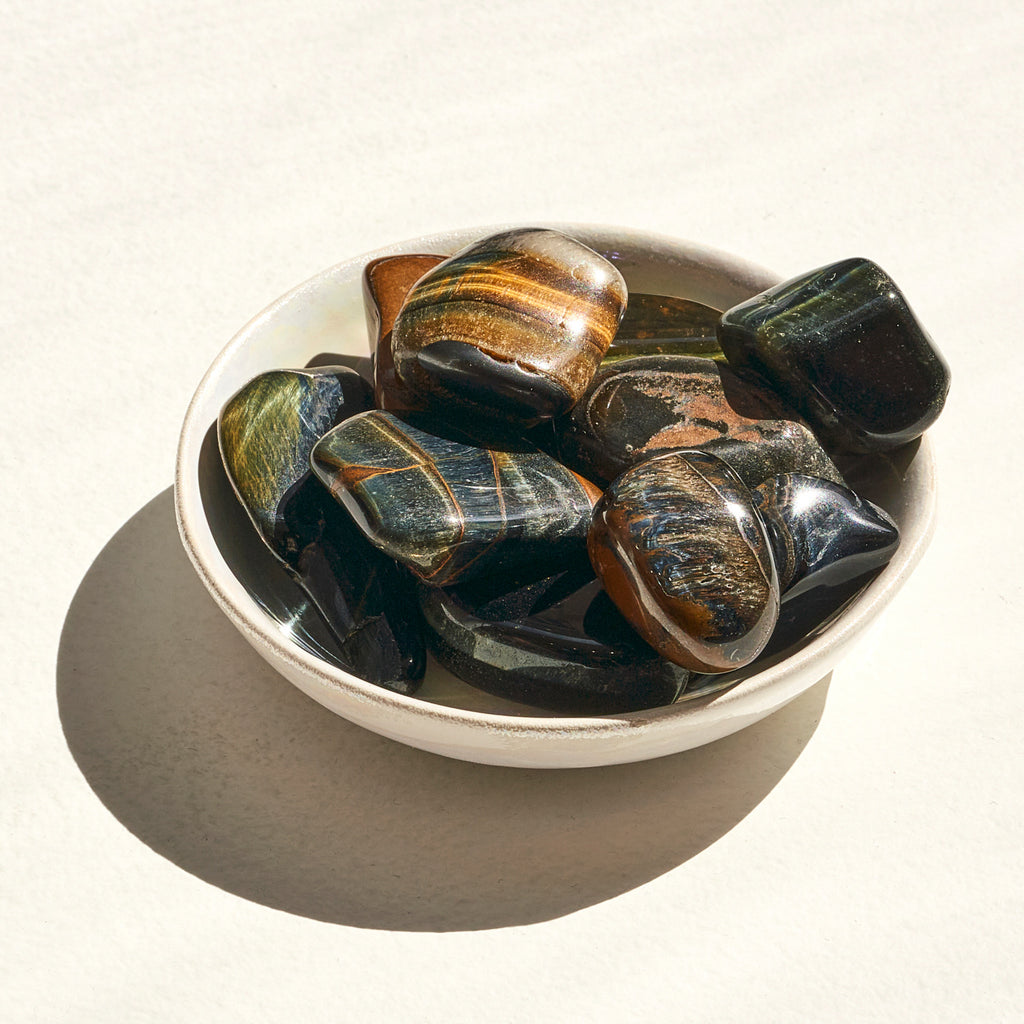 "Hawkeye sees what we don't see... This stone shows us another path to take and allows us to extricate ourselves from certain situations."

This crystal gives us strength, courage and also the taste for change! Finished the negative thoughts and the fears which turn in loop, with this stone, one darkens head lowered and spread wings.

Hawk's Eye develops your empathy, it will help the most shy or the most stubborn to turn to others, thanks to better understanding and listening.
Conducive to new ideas, it opens up another path tinged with freedom, more flexible, more sincere.

Its deep color, between land and sea, will work your anchoring as much as your open-mindedness, sweeping away the fears that could hide the real messenger: your intuition!
On oneself :
In a pocket, or in jewelry, Hawk's Eye brings self-confidence. This stone, strong in energy, encourages you to go beyond shyness and insecurity. It helps fight fears and brings you courage.

Home :
Placed in a room, it diffuses positive and protective energies. At his side, you feel safe, free to create your space.

At work :
Placed on the desk or in a pocket while you work, Hawk's Eye helps calm your mind when things get out of control. It is very useful for artistic professions because it brings creativity and inspiration. Finally, it promotes concentration by repelling parasitic thoughts.

Meditation / Yoga:
Placed on the yoga mat or in your hands during your meditation, Hawk's Eye promotes intuition and develops clairvoyance. Ideal for working on the opening of the 3rd eye!
✦ Unload your crystals:
Pass your stone under the smoke of White Sage or Palo santo and visualize the negative energies emerging from it.
Place it in the center of a Tibetan bowl and let the bad energies escape thanks to the vibrations of the sounds.

✦ Recharge your crystals:
Take advantage of the soft light of the sun (morning or evening) to let your stone take charge of its energies.
Put your stone in the ground so that it can discharge in a healthy environment.

✦ Unload and Reload your crystals
Place your crystals on the Flower of Life to discharge and recharge them.
Place your stone on a cluster of quartz or an amethyst geode.
LIVRAISON : Une fois que votre commande est validée de notre côté, nous l'expédions en moyenne dans les 1 à 2 jours ouvrables. Lorsque celle-ci est prise en charge par Colissimo, votre colis vous est livré dans les 2 à 5 jours ouvrables suivants.
RETOUR : Vos cristaux ne résonnent pas en vous ? Pas de panique, vous disposez d'un délai légal de 14 jours pour nous renvoyer les pépites qui ne vous conviennent pas.
Pour plus d'infos, n'hésitez pas à consulter notre FAQ 💬