Livraison offerte dès 49€ en France Métropolitaine 🚀
Première marque de développement spirituel à être distribuée dans les plus grands magasins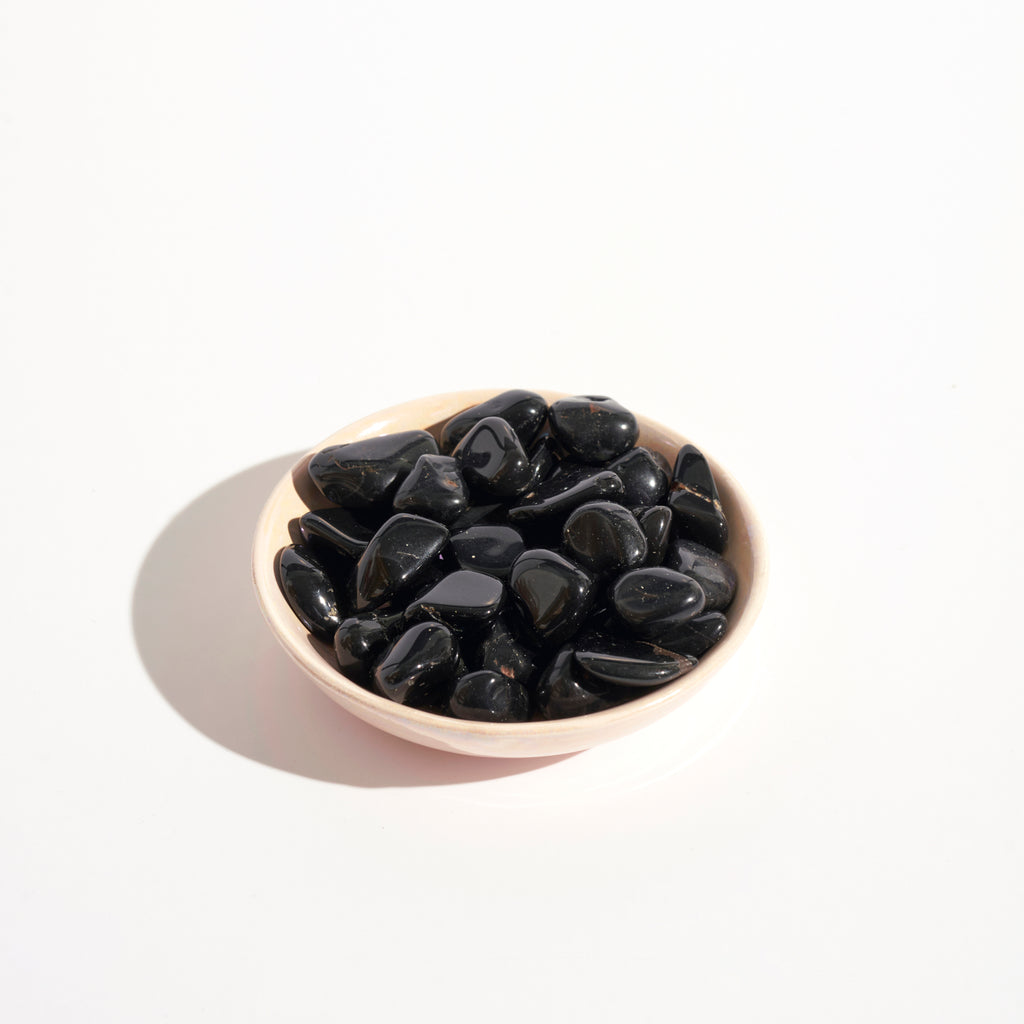 Onyx🛡️Confiance en soi et protection
Onyx or Black Agate retains an imperturbable vibratory capacity and knows how to come to our aid when we need comfort. In the midst of disturbances, this crystal transmits comfort and protection to allow us to weather our sentimental storms without pitfalls.

Although its color would tend to make us mope, the Onyx is very protective and has fun kicking the buttocks of energy vampires. The feeling of security it gives allows all litho lovers to feel good about their sneakers, without fear or anxieties.
On oneself :
When your head is about to explode, Onyx is soothing because it reassures us by whispering that everything is fine. Volcanic stone, it knows how to connect us to the earth and provides us with a certain stability.

At work :
It's the big rush period, everyone jostles in the corridors to respect the last deadlines. Put this excitement on hold by placing your Onyx on the corner of your desk. Its opaque shell lets nothing through, not even the stress of the colleague with whom you share your open space.

In meditation:
During your meditation sessions, the Onyx connects you to the ground. Your anchoring is reinforced and you are about to assume all your decisions.
✦ Unload your crystals:
Pass your stone under the smoke of White Sage or Palo Santo to rid it of negative energies.
Place it in the center of a Tibetan bowl and let the bad energies escape thanks to the vibrations of the sounds.

✦ Recharge your crystals:
Take advantage of the soft light of the sun (morning or evening) to let your stone take charge of its energies.

✦ Unload and Reload your crystals
Place your crystals on the Flower of Life to discharge and recharge them.
Place your stone on a cluster of quartz or an amethyst geode.
Average weight: 7g

À quoi correspond la qualité des cristaux ?
Sur chaque page présentant un minéral, vous pouvez retrouver la mention "Qualité" suivie de sa note. Chaque notation correspond à un critère qualité utilisé dans le monde des cristaux. Il en existe 5 :
B : Faible
AB : Standard
A : Bonne qualité
AA : Très bonne qualité
AAA : Meilleure qualité possible
Sur notre site, nous faisons le choix de ne proposer aucun cristal en dessous d'une classification AB afin de vous garantir la meilleure des qualités.
Si vous souhaitez en savoir plus sur la provenance, le sourcing et la qualité de nos produits, rendez-vous ici 🌈
LIVRAISON : Une fois que votre commande est validée de notre côté, nous l'expédions en moyenne dans les 1 à 2 jours ouvrables. Lorsque celle-ci est prise en charge par Colissimo, votre colis vous est livré dans les 2 à 5 jours ouvrables suivants.
RETOUR : Vos cristaux ne résonnent pas en vous ? Pas de panique, vous disposez d'un délai légal de 14 jours pour nous renvoyer les pépites qui ne vous conviennent pas.
Pour plus d'infos, n'hésitez pas à consulter notre FAQ 💬