Livraison offerte dès 49€ en France Métropolitaine 🚀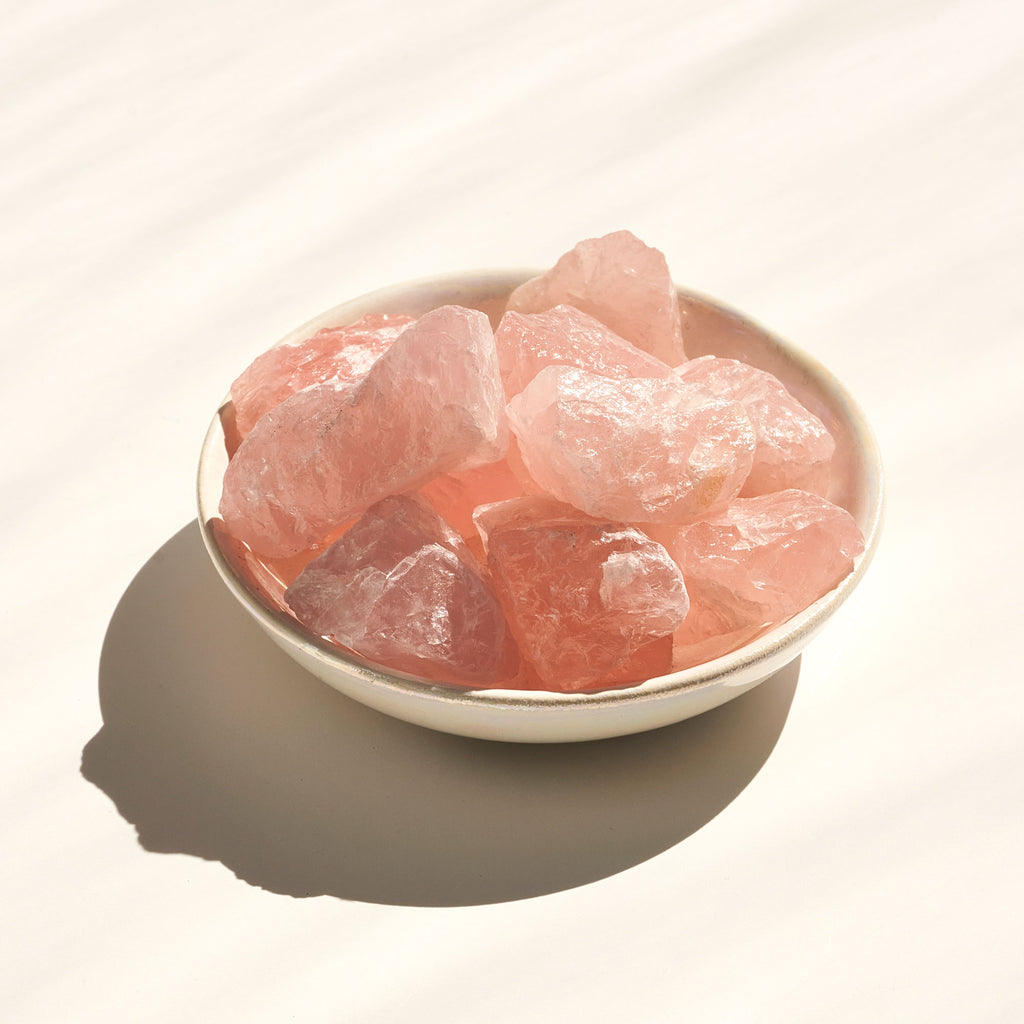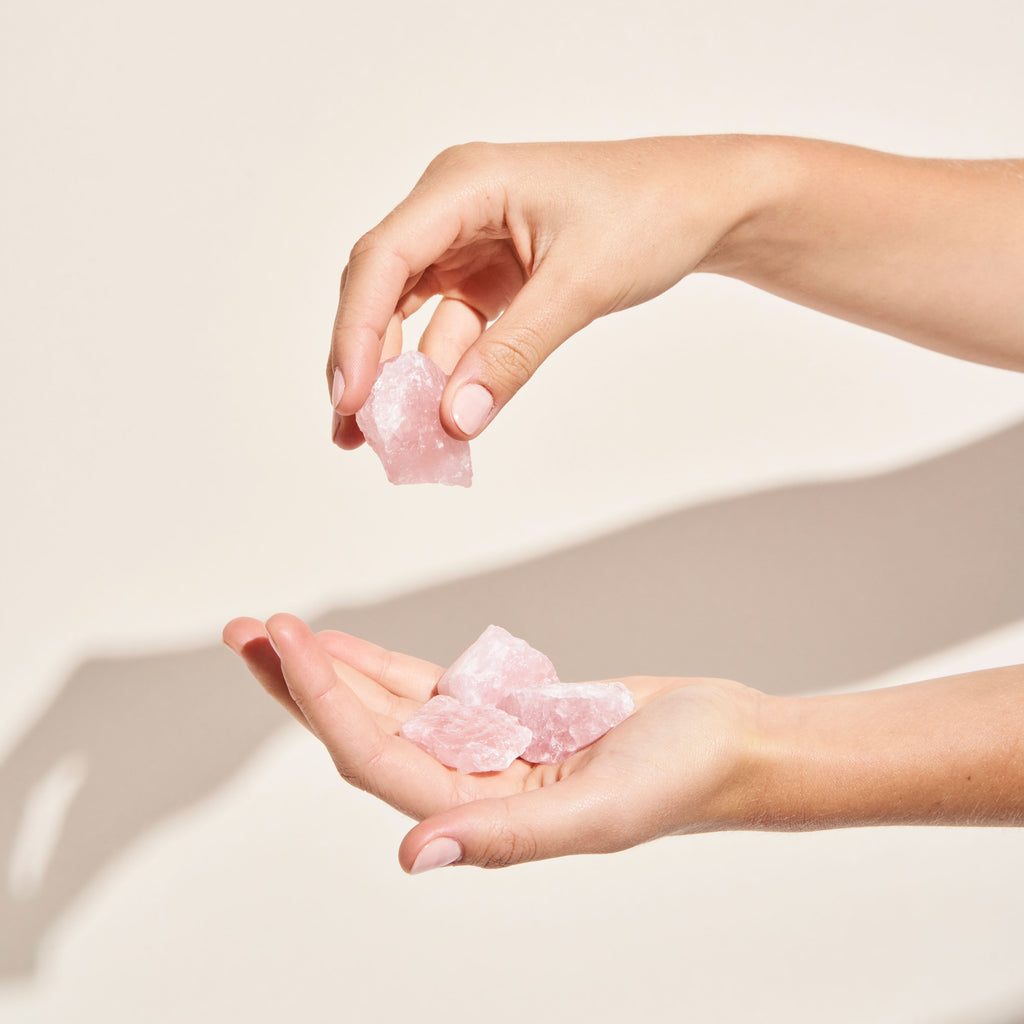 Rough Rose Quartz 💖 Attract love
Love, Love, Love: no other mantra for Rose Quartz.

A stone of unconditional love and peace, the Rose Quartz pendant is there to remind us that nothing matters more in life than the love we have for ourselves. This star crystal is there to give us back in our hearts, the place and the energy of love that we deserve. He reminds us, at the bend of some winding paths, how important it is to love, forgive, respect each other to find personal fulfillment.

Derived from Aphrodite, Greek goddess of fertility and love, or the result of the union between Amor and Eros according to legend, Rose Quartz is the love to love stone. Self-esteem and empathy, two sides of love, of oneself first, then of others. As a couple, this stone facilitates forgiveness and understanding. Rose Quartz is also offered to a jealous person to calm their crises. Single, it helps you expand your circle of acquaintances.
On oneself :

Worn on you, Rose Quartz surrounds you with a sphere of loving energy, which activates and balances the heart. It heals heartache and helps you accept yourself as you are. This inexhaustible source of love makes you happy and at peace with yourself. With Rose Quartz you attract the energy you give off, that is to say Love.


Home :

In a living room, Rose Quartz creates a calm and soothing atmosphere. In the bedroom, it brings tenderness and revives desire in the couple. In case of insomnia or restless sleep, place a Rose Quartz, on the bedside table, under the pillow or under the bed, associated with an Amethyst and/or a Hematite, its effectiveness will then be increased.


Crystals & plants:

Plant a plant or flower in a pot and bury your Rose Quartz in the ground, it is a perfect symbol of the love you want to see grow.
✦ Unload your crystals:
Pass your stone under the smoke of White Sage or Palo santo to rid it of negative energies.
Place it in the center of a Tibetan bowl and let the bad energies escape thanks to the vibrations of the sounds.
Place your stone on a cluster of quartz or an amethyst geode.

✦ Recharge your crystals:
Take advantage of the soft light of the full moon to let your stone take charge of its energies.
Put your stone in the ground so that it can discharge in a healthy environment.

✦ Unload and Reload your crystals:
Place your crystals on the Flower of Life to discharge and recharge them.
Place your stone on a cluster of quartz or an amethyst geode.
Average weight: 12g

À quoi correspond la qualité des cristaux ?
Sur chaque page présentant un minéral, vous pouvez retrouver la mention "Qualité" suivie de sa note. Chaque notation correspond à un critère qualité utilisé dans le monde des cristaux. Il en existe 5 :
B : Faible
AB : Standard
A : Bonne qualité
AA : Très bonne qualité
AAA : Meilleure qualité possible
Sur notre site, nous faisons le choix de ne proposer aucun cristal en dessous d'une classification AB afin de vous garantir la meilleure des qualités.
Si vous souhaitez en savoir plus sur la provenance, le sourcing et la qualité de nos produits, rendez-vous ici 🌈
LIVRAISON : Une fois que votre commande est validée de notre côté, nous l'expédions en moyenne dans les 1 à 2 jours ouvrables. Lorsque celle-ci est prise en charge par Colissimo, votre colis vous est livré dans les 2 à 5 jours ouvrables suivants.
RETOUR : Vos cristaux ne résonnent pas en vous ? Pas de panique, vous disposez d'un délai légal de 14 jours pour nous renvoyer les pépites qui ne vous conviennent pas.
Pour plus d'infos, n'hésitez pas à consulter notre FAQ 💬