Livraison offerte dès 49€ en France Métropolitaine 🚀
Première marque de développement spirituel à être distribuée dans les plus grands magasins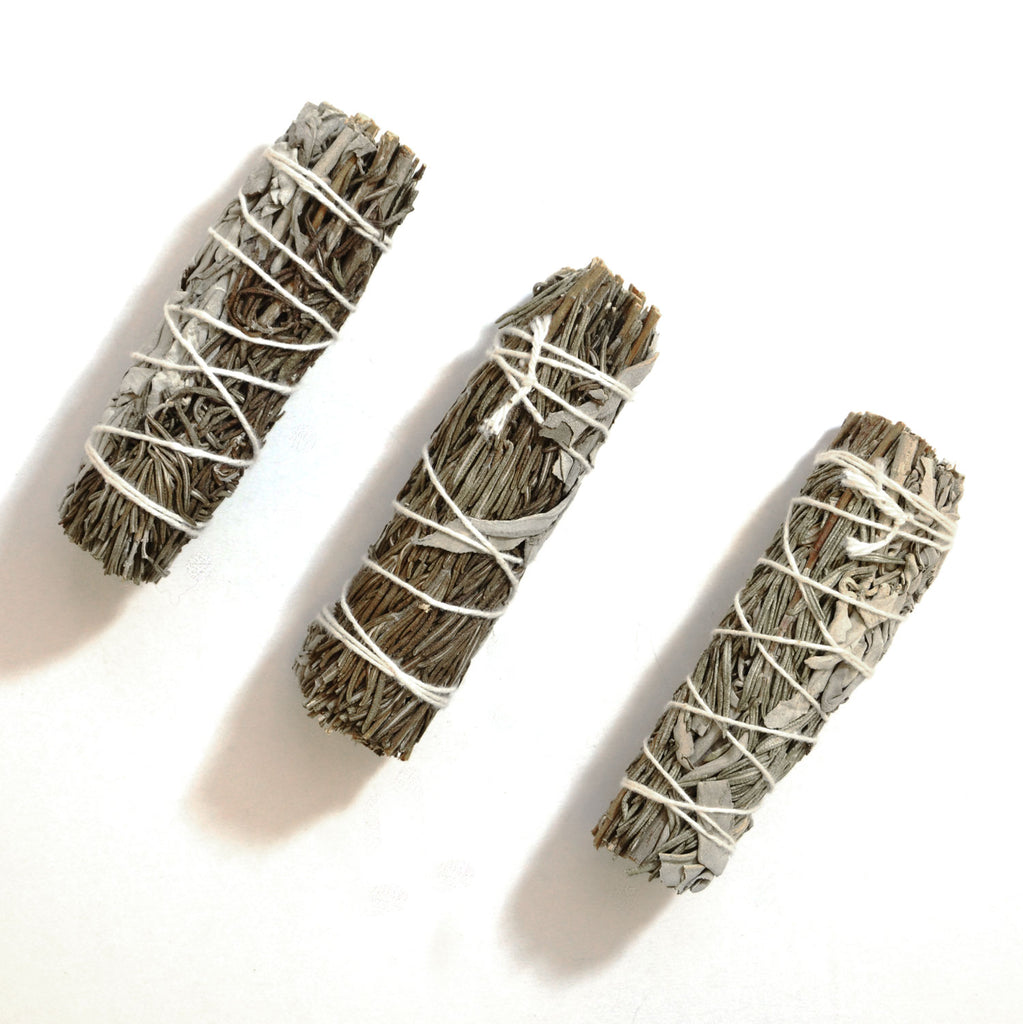 White Sage fumigation is used to clear negative energies and attract more positive ones. Its smoke has a strong cleaning power, it has this property of hanging negative energies and removing them from places, objects or people.

Mixed with a few branches of Rosemary, this Mediterranean plant widely used in cooking, you will benefit from better concentration thanks to its stimulating effect as well as a relaxing effect on your worries. Bonus, it is antibacterial and will also protect you from microbes that would have been invited into your cocoon!

Light your stick and let it burn for several seconds before blowing lightly on it to reduce the flame. Let the smoke purify your space. Go from corner to corner while uttering benevolent affirmations that will chase away negative energies.
Bring benevolence into your home, office, meditation or yoga space. Burn your stick during your New Moon rituals to welcome renewal with openness and vitality, or when you need to germinate new ideas, habits or relationships. Beyond old patterns, I welcome change with open arms!
Fumigation should be done in a well ventilated area. Indoors, we recommend that you open your windows to let the negative energies escape with the smoke. The information given comes from traditions, cultures from various backgrounds, they absolutely do not replace traditional medicine.
LIVRAISON : Une fois que votre commande est validée de notre côté, nous l'expédions en moyenne dans les 1 à 2 jours ouvrables. Lorsque celle-ci est prise en charge par Colissimo, votre colis vous est livré dans les 2 à 5 jours ouvrables suivants.
RETOUR : Vos cristaux ne résonnent pas en vous ? Pas de panique, vous disposez d'un délai légal de 14 jours pour nous renvoyer les pépites qui ne vous conviennent pas.
Pour plus d'infos, n'hésitez pas à consulter notre FAQ 💬